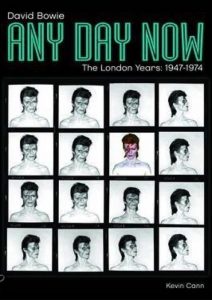 David Bowie Any Day Now: The London Years (1947-1974)
Author:
Kelvin Cann
Category: Biography, The London Years
Publisher: Adelita Ltd
Published: 28 Feb, 2011
ISBN-13: 9780955201776
Pages: 336
Language: English
Dimension: 28,8 x 22.86 x 1.91 cm
Description:
---
David Bowie first came to notice with the 1969 song "Space Oddity," after which he promptly vanished from the public eye, immersing himself in a long period of musical experimentation and reemerging in 1972 as the glam rock androgyne Ziggy Stardust. Under this persona Bowie launched the album The Rise and Fall of Ziggy Stardust and the Spiders from Mars, spearheaded by the hit single "Starman." The late 60s and early 70s were an incredibly formative and fertile period for Bowie. Any Day Now provides the most detailed account of Bowie's early years ever published, with a wealth of new biographical information, interviews, memorabilia plus rare and unseen portraits from photographers including Terry O'Neill, Ray Stevenson, Geoff MacCormack, David Bebbington, Jak Kilby and Bob Solly. Proceeding year by year–and even day by day, as Bowie's career takes off and goes stellar–it tracks the rock legend's career from his birth in London in 1947 to the height of his success in 1974 with the release of his album Diamond Dogs and his departure from the UK. For hardcore Bowie fans, Any Day Now also includes the most concise listing of early Bowie performances ever published. Author Kevin Cann, who has worked on reissues of Bowie's back catalogue, unravels many of the myths that have surrounded the early career of one of rock's most influential figures, in this encyclopedic illustrated book. Kenneth Pitt, Bowie's manager during these years (1967-1970), contributes a foreword.
Kevin Cann published his first book on Bowie (David Bowie: A Chronology) in 1983. In 1995 he worked as Bowie's assistant on his first solo exhibition in London, and in 1999 he researched and coordinated the reissue of Bowie's back catalogue with EMI. Cann has also worked as consultant on Bowie and Mick Rock's Moonage Daydream (2002) and Geoff MacCormack's Station To Station (2007).
(Visited 12 times, 1 visits today)
Back