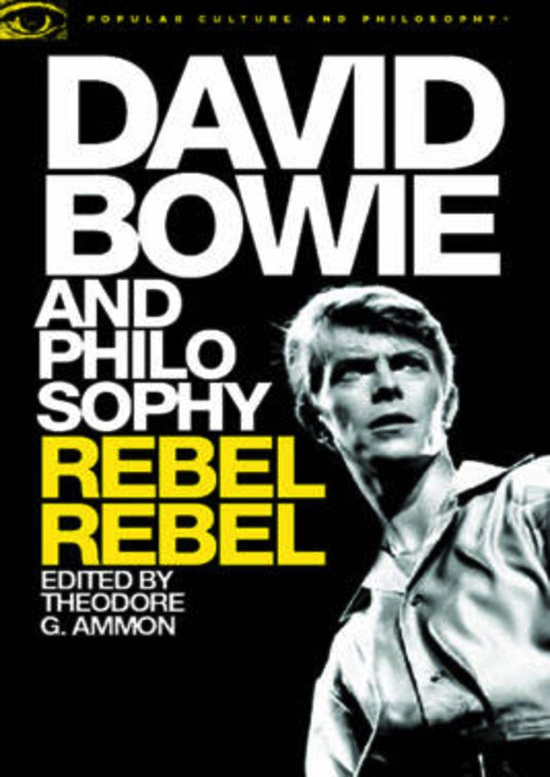 David Bowie and Philosophy: Rebel Rebel
Author:
Theodore G Ammon
Category: Biography, philosophically
Publisher: Open Court Publishing Co
Published: 06 Sep, 2016
ISBN-13: 9780812699210
Pages: 288
Country: USA
Language: English
Dimension: 22,9x22,9x15,2 cm - Weight 446 grams
Description:
---
Summary
The philosophically rich David Bowie is an artist of wide and continuing influence. The theatrical antics or Bowie ushered in a new rock aesthetic, but there is much more to Bowie than mere spectacle. The visual belies the increasing depths of his concerns, even at his lowest personal moments. We never know what lies in store in a Bowie song, for there is no point in his nearly 30 albums at which one can say, that's typical Bowie! Who else has combined techno and hard rock, switched to R&B love songs (with accompanying gospel) to funk to jazz-rock fusion and back again? Among the topics explored in David Bowie and Philosophy are the nature of Bowie as an institution and a cult; Bowie's work in many platforms, including movies and TV; Bowie's tension or low and high art; his relation to Andy Warhol; the influence of Buddhism and Kabuki theatre; the recurring theme of Bowie as a space alien; the dystopian element in Bowie's thinking; the role of fashion in Bowie's creativity; the aesthetics or theatrical rock and glam rock; and Bowie's public identification with bisexuality and his influence within the LGBTQ community.
Editorial Reviews
About the Author
Theodore G. Ammon is an associate professor of philosophy at Millsaps College in Jackson, MS. He is the editor of Conversations with William H. Gass and the author of Imagine U. He lives in Jackson, MS
(Visited 20 times, 1 visits today)
Back