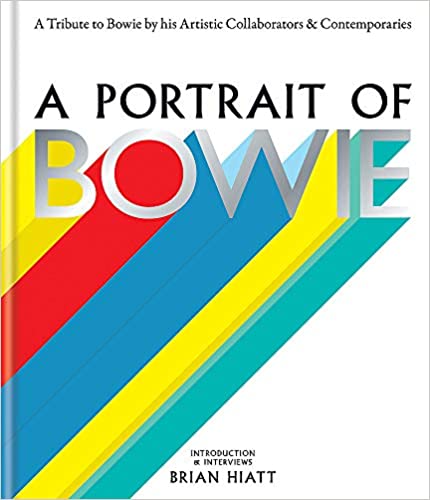 David Bowie A Portrait of Bowie: A tribute to Bowie by his artistic collaborators and contemporaries
Author:
Brian Hiatt
Category: Biography, Carlos Alomar, Cyndi Lauper, Earl Slick, Mike Garson, Nile Rodgers, Robyn Hitchcock
Publisher: Octopus Publishing Group
Published: 04 Apr, 2017
ISBN-13: 9781844039272
Pages: 224
Country: United Kingdom
Language: English
Dimension: 28,2 x 24,4 x 2,6 - Weight: 1520 grams
Description:
---
By Lilah Spencer (Musée Magazine)
Through a collection of visual and written tributes recorded in first person by a slew of artistic collaborators and contemporaries including Nile Rodgers, Mike Garson, Carlos Alomar, Earl Slick, Cyndi Lauper and Robyn Hitchcock, Rolling Stone journalist Brian Hiatt has brought to life 224 pages of remarkable insight into the brilliant, elusive, larger than life evolution of conceptual artist David Bowie. A Portrait of Bowie: A tribute to Bowie by his artistic collaborators and contemporaries gives us something to sink our teeth into with an in-depth look at the glamorous, always inspiring, sometimes harsh man that is Bowie.
Bowie tried on personas like he was fishing through the costume section at a thrift store, easily adapting to his own desire to push the boundaries society had in place. As any fan of the iconic singer knows, this made him a hard man to define in a word or even a sentence. The people closest to him knew this better than anyone. Through interviews with some of his closest confidants, A Portrait of David Bowielets readers run their fingers over the seams of his evolution, crafting an understanding of how this man came to know his power and how he became a master of innovation over the course of his career.
I was aware going in that this was not going to be a record of Bowie through his own eyes. The interviews zig zag back and forth over the course of his life. I was not reading an autobiography, I was delving into a portrait of his working relationships, his early life through the voice of a childhood friend, recollections of intimate moments with those he trusted. I was interested in the sides of Bowie that perhaps wouldn't be included, for lack of awareness or otherwise, if narrated by Bowie himself. Still, by the time I neared the end I was already left with a palpable feeling of disconnectedness from the star. I think this is because even those who worked closely with him felt a distance, an unpredictability in his personality clearly reflected in his music that was difficult to pin down for longer than a moment. Seeing through their eyes, hearing their perceptions and opinions, I felt bittersweet nostalgia. A closeness and an isolation.
A Portrait of Bowie is unique in the way it draws the reader in through the intimacy of Bowie's collaborators, shedding light on their experiences with the singer. A diverse collection of visuals including some of the most iconic paintings and photographs of the singer showcases the many changes in his public image over the years, from Ziggy Stardust to Thin White Duke. His knack for escaping through self-expression is a main theme throughout, yet I got the impression that he wasn't running. Bowie was discovering, and he asks us to come with him. Brian Hiatt brought together a thoughtful ensemble that gives us rare insight, allowing us to strengthen and grow in our perception of the icon that is David Bowie.
(Visited 30 times, 1 visits today)
Back