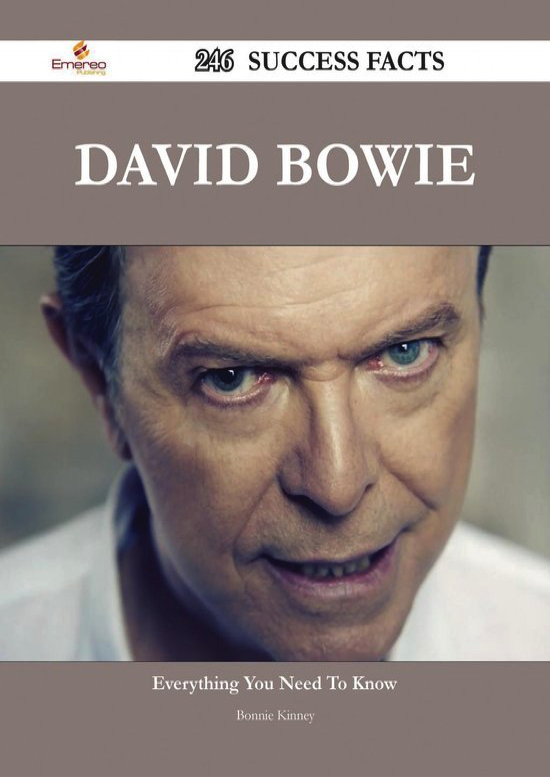 David Bowie 246 Success Facts – Everything you need to know about David Bowie
Author:
Bonnie Kinney
Category:
Biography
Publisher:
Emereo Publishing
Published: August 2, 2014
ISBN-13: 9781488566479
Pages: 122
Country: Australia
Language: English
Description:
---
The Real David Bowie. This book is your ultimate resource for David Bowie. Here you will find the most up-to-date 246 Success Facts, Information, and much more.
In easy to read chapters, with extensive references and links to get you to know all there is to know about David Bowie's Early life, Career and Personal life right away.
A quick look inside: Fame (David Bowie song) – In pop culture, Fame (David Bowie song) – Video, Fame (David Bowie song) – 1975 track listing, Fame (David Bowie song) – Song development, Let's Dance (David Bowie song) – Legacy, Let's Dance (David Bowie album) – Technical, List of awards and nominations received by David Bowie – Q Awards, David Bowie (1967 album) – Bonus tracks (2010 deluxe edition), Quicksand (David Bowie song), We Were So Turned On: A Tribute to David Bowie, Sorrow (David Bowie song) – Track listing, David Bowie (1967 album) – Style and themes, Fame (David Bowie song) – Fame, Ashes to Ashes (David Bowie song) – Music and lyrics, List of awards and nominations received by David Bowie – American Music Awards, David Bowie – Personal life, Reality (David Bowie album) – Track listing, Heathen (David Bowie album) – Music videos, Low (David Bowie album) – Additional personnel, The Collection (David Bowie album), Aynsley Dunbar – With David Bowie, List of awards and nominations received by David Bowie – BAFTA Television Awards, Fame (David Bowie song) – Other releases, Stage (David Bowie album) – Personnel, List of awards and nominations received by David Bowie – GQ Awards, Blue Jean (song) – David Bowie on Blue Jean, "Heroes" (David Bowie song) – 7: RCA / 20629 (Australia), Ashes to Ashes (David Bowie song) – Live versions, and much more…
(Visited 26 times, 1 visits today)
Back