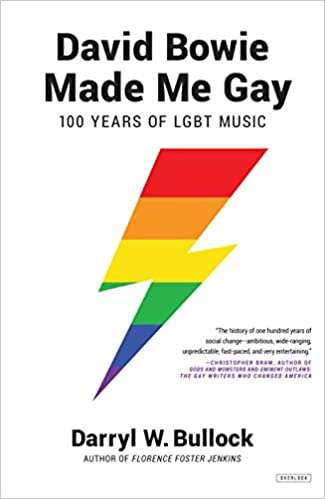 David Bowie Made Me Gay: 100 Years of LGBT Music
Author:
Darryl W. Bullock
Category:
LGBT musicians
Publisher: Overlook Press
Published: April 30, 2019
ISBN-13: 9781468316919
Pages: 368
Language: English
Dimension: 22,9 X 15,2 x 3,2 cm
Description:
---
LGBT musicians have shaped the development of music over the last century, with a sexually progressive soundtrack in the background of the gay community's struggle for acceptance. With the advent of recording technology, LGBT messages were for the first time brought to the forefront of popular music. David Bowie Made Me Gay is the first book to cover the breadth of history of recorded music by and for the LGBT community and how those records influenced the evolution of the music we listen to today.
David Bowie Made Me Gay uncovers the lives of the people who made these records, and offers a lively canter through the scarcely documented history of LGBT music-makers. Darryl W. Bullock discusses how gay, lesbian, and bisexual performers influenced Jazz and Blues; examines the almost forgotten Pansy Craze in the years between the two World Wars (when many LGBT performers were fêted by royalty and Hollywood alike); chronicles the dark years after the depression when gay life was driven deep underground; celebrates the re-emergence of LGBT performers in the post-Stonewall years; and highlights today's most legendary out-gay pop stars: Elton John, Boy George, Freddie Mercury, and George Michael. "Popular music is the great stealth art form, able to slip past our censors and explore all kinds of sexuality in ways closed to print or movies. Darryl Bullock's book is a wonderful encyclopedia of queer music, an encyclopedia with a plot: the history of one hundred years of social change. He not only connects the musical dots, but reveals dots I didn't know existed. Ambitious, wide-ranging, unpredictable, fast-paced, and highly informative, David Bowie Made Me Gay is also very entertaining."–Christopher Bram, author of Gods and Monsters and Eminent Outlaws: The Gay Writers Who Changed America"From 'Ma' Rainey to Adam Lambert?with Janis Ian, the Village People, k.d. lang, and Pansy Division discussed along the way?
David Bowie Made Me Gay is a whirlwind tour through how queer musicians have changed the rhythm and the beat of music and culture for almost one hundred years. Everyone knows that music is sexy, and sex is better with the right music?and LGBT people have been pushing the boundaries of music and sex for decades. The 'soundtrack' for cultural liberation over the decades has been written and performed by gay people?and this book does not miss a beat documenting who, how, and why that happened. A must read for anyone interested in, or fascinated by, music and popular culture."–Michael Bronski, author of A Queer History of the United States and Professor of Practice in Media and Activism, Harvard University"A fun and enlightening read, Darryl Bullock's David Bowie Made Me Gay is to popular music what William J. Mann's Behind the Screen is to Hollywood filmmaking: a convincing account of the hitherto ignored influence of LGBTQ people in a popular medium. Although there are other studies of some of these decades, Bullock's treatment of the past 100 years is an engaging 'one-stop' of many genres–[its] detailed coverage of women's music is welcome–and uniquely inclusive of both the US and UK. A valuable addition to the history of popular music as well as queer studies, and should appeal to general readers of all sexualities."–Vicki L. Eaklor, author of Queer America
Review
A highly comprehensive history of LGBT music, spanning a century from early jazz and blues to today's most recognizable pop stars out of the closet. Bullock meticulously chronicles the LGBT community's vast influence on music through a historical lens, revealing how society's oscillation between acceptance and persecution has shaped what we listen to today.
Well-researched and brimming with intrigue, Bullock's comprehensive study not only makes the work of scores of musicians sing anew; it also demonstrates how the pendulum of acceptance can swing from era to era.
A look back at a century of LGBTQ music, [Bullock's] history lesson serves as a primer of a movement in which Bowie was key.
Music fans are likely to treasure this tome as it highlights the contribution from many artists now forgotten or, in some cases, unappreciated during their lifetimes. It also demonstrates that not only have there been LGBT recording artists since the dawn of recorded music but many did little to hide their sexual orientation.
Bullock's comprehensive yet concise history of LGBT music from the earliest records in the pre-jazz age to the 21st century is an enthralling journey covering multiple genres, and serves as both a cultural and sociological study of the history and impact of various artists and music styles . . . Bullock spotlights dozens of LGBT artists, examining their lives, lyrics, and struggles, both in society and within the music industry, in an entertaining narrative that will also encourage readers to seek out fascinating work that helps define a community's rich history and heritage.
A compelling music history . . . detail[ing] the influence LGBT musicians have had on popular culture over the past century, from early jazz and blues through today's hits, and stopping to examine icons like Elton John, Freddie Mercury and, of course, Ziggy Stardust himself.
Comprehensive . . . [from] the tragic losses of talent in 2016 (including those who died at the Pulse Nightclub in Orlando) . . . to New Orleans in the nineteen-teens before spinning back, like a record, to the present day.
It's no secret that the LGBT community has played a huge role in the development of Western music, but Bullock's book excavates those who have been 'straight-washed, ' as he calls it, to give a full account of the artists whose sexual identities were blunted or erased completely in the face of extreme prejudice . . . Bullock gives as much attention to the Freddie Mercurys and Little Richards as he does to the lesser known figures who had a tremendous impact on pop music.
Reading Bullock's 100-plus-year history, you could conclude that gay people invented jazz, the blues, and rock & roll, and that we commandeered Broadway show tunes and disco, and had a hand in establishing punk and new wave. And your conclusions would be accurate. Bullock disentangles [the history] in fascinating detail. Rich and inspiring . . . Bullock has reached far beyond the famous and infamous and created an invaluable resource for anyone interested in LGBT or musical history–a resource which, incidentally, is sumptuously packaged with dozens of high-quality photographs, many in color. Bullock's personal interviews yielded bounties of rich material [and his] prolific research stands beside his personal commitment to preserving the history of LGBT music.
Bullock's reparative history brings attention to an impressive number of LGBT performers, composers, technicians, and producers, and it is shocking such a guide doesn't exist already . . . Many will be very excited at the existence of such a capacious reference . . . It is my secret hope that every LGBT reader of this book will mad-lib the title and think about which pop music icons, LGBT and otherwise, played a role in shaping their sexualities.
[Bullock's] returned with a second book of much grander ambition, David Bowie Made Me Gay: 100 Years of LGBT Music. Such a project could certainly fill a set of encyclopedias . . . this is a good starter kit to give a queer teenager who doesn't know anything about all the music that comes before Lady Gaga, or for older queers who tuned out new music after the second decade of Elton John.
A comprehensive, illuminating and entertaining celebration of LGBT singers, composers, producers and musicians who created music over the last century. Bullock enhances these mini-biographies by placing them in context with historic advancements and setbacks in the quest for gay civil rights . . . Bullock's sensational reference guide uncovers a lot of fascinating and unfamiliar queer history and shares it in an entertaining and breezy style.
David Bowie Made Me Gay recovers the lost history of music made by, and for, the LGBTQ community. Bullock touches on artists as unalike and historically far-flung as the flamboyant ragtime-era pianist Tony Jackson . . . [whose music], decades before Lady Gaga's gay-positive song 'Born This Way' hit the airwaves, gave hope to fearful, isolated LGBTQ kids.
About the Author
Darryl W. Bullock is a publisher, editor, and writer specializing in numerous areas including music and the arts. He is the author of The World's Worst Records and posts weekly on his popular blog, The World's Worst Records. Bullock helped launch We Are Family, the UK's first magazine for LGBT families and their friends. He is the author of David Bowie Made Me Gay: 100 Years of LGBT Music and Florence Foster Jenkins: A Life of the World's Worst Opera Singer
(Visited 17 times, 1 visits today)
Back