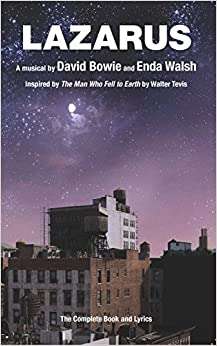 Description:
---
One of the last works completed by beloved pop icon David Bowie before his death in early 2016, the otherworldy musical Lazarus is a poignant homage to his legacy. Inspired by the 1963 novel The Man Who Fell to Earth, Lazarus weaves a thrilling rock opera from new compositions by Bowie as well as many of his classic songs:
Review
Blazingly original…adds another mysterious chapter to a career that was full of infinite mystery. –
The Stage
David Bowie's parting gift to the world – and what a rare and mesmeric testament this is…it's all unforgettable. I sat rapt throughout' –
Independent
Captivating, tense, and emotional… shows like this don't come along very often. – Radio Times
Lazarus…continually emphasizes the surreal over the explicit at nearly every turn… It's all strange and wonderful and heartbreaking and funny in alternating measure. — Rolling Stone
[A] poignant remembrance as well as a satisfyingly chewy work in its own right. – Financial Times
Gripping… [a] strangely poetic piece of music theatre… there's nothing at all conventional about this. It is festive. Riotous. Dionysian. Wonderful. – BritishTheatre.com
Like David Bowie himself, this is a show that defies definition. It's both all and none of a musical, a play, a gig, performance art, philosophical meditation, a fever dream, a collective trip into the unknown… strangely fascinating and fascinatingly strange. – Broadway World
Fascinating to watch… [a] spectacular study of a pained outsider's search for peace. – Guardian
Bowie's ghost is movingly present… the play feels part celebration, part wake; sorrow and death fug up the theatre like some sort of paranormal mist. – GQ Magazine
Intriguing and nuanced… a fitting memorial to one of the giants of popular culture. – Gay Times
Outstanding… full of wild energy, magical effects and overwhelming music. – WhatsOnStage
Enda Walsh's book is full of longing – for love, for peace, for release from earthly ties – while songs from Bowie's iconic catalogue, an astonishing legacy spanning four decades, are reimagined in a new context whilst somehow retaining the potency they once exerted during the course of a life richly lived. No jukebox musical, this… [the] entire creation is infused with the spirit, the quirkiness, the capriciousness of Bowie, and Walsh could not be more in tune with all of it. – The Arts Desk
Author:
David Bowie released over thirty albums throughout his fifty years in the music industry, including The Man Who Sold the World, Space Oddity, The Rise and Fall of Ziggy Stardust and the Spiders from Mars, Young Americans, Low and Heroes among others. His final album Blackstar was released to critical acclaim in January this year. Also an accomplished actor, Bowie appeared on Broadway in The Elephant Man, and can be seen in many films including The Last Temptation of Christ and Merry Christmas, Mr. Lawrence. In 1996, Bowie was inducted into the Rock and Roll Hall of Fame, and in 1999, he became a Commandeur dans L'Ordre des Arts et des Lettres.Enda Walsh is an award-winning Irish playwright. His plays include Ballyturk, Misterman, Penelope, The New Electric Ballroom, The Walworth Farce, The Small Things, Bedbound and Disco Pigs. He won a Tony Award in 2012 for writing the book for the musical Once. His work has been performed all over the world.
(Visited 23 times, 1 visits today)
Back