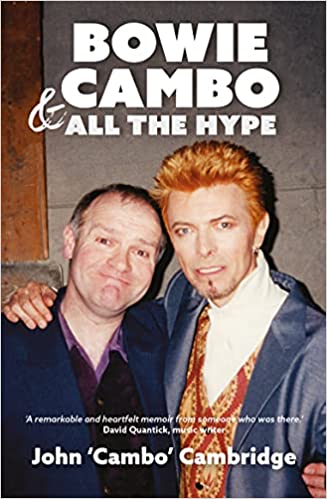 Description:
---
Bowie, Cambo & All the Hype traces the extraordinary and pivotal friendship between David Bowie and drummer John Cambridge, from the time when Bowie made his first major career breakthrough in 1969 to his death from cancer in 2016. Drummer, musician and friend John 'Cambo' Cambridge lived with Bowie at Haddon Hall when he had his first hit record 'Space Oddity' and toured with him in Junior's Eyes. He was there for him at many key moments – when Bowie lost his father, passed his driving test, played his first Glam Rock gig with Hype, even acting as best man when Bowie married Angela Barnett in 1970. And if John had not persuaded his former Rats colleague Mick Ronson to join Bowie in February 1970, there might never have been a Ziggy Stardust or the stellar career which followed. In Bowie, Cambo & All the Hype we get a backstage pass to key people and events during those crucial early years.
This is a heartfelt story of a unique friendship.
==================
Bowie, Cambo and all the Hype by John Cambridge
McNidder & Grace 
A behind the scenes look at David Bowie's early years, told from the unique viewpoint of drummer John Cambridge.
I don't know about you, but I love a good origin story.
I'm not just talking superheroes here, but real life as well. When I'm reading, say, a new Sex Pistols book, the part that fascinates me the most is the build up. How did they come together, how did things start for them, how did it all begin?
This is what John Cambridge's book, Bowie, Cambo and all The Hype, focuses on in the Bowie legend. How did Bowie go from being a tousled folky singer-songwriter to the glam behemoth we all came to love?
Bowie, Cambo and all The Hype is John Cambridge's account of his time with David Bowie in the hinterland he occupied as he was looking to escape his one hit wonder status following the success of Space Oddity but before he took off with Ziggy Stardust.
Cambo, as he is generally called, was the drummer in Bowie's backing band The Hype, shortly before they mutated into The Spiders from Mars and, despite getting sacked, managed to rekindle and maintain a friendship with Bowie.
His tale is essentially a short one and one that may not register highly on the Richter scales of Bowie's creative life, but there is something about friendships when we are young when we are starting out, that makes them stand out in our life.
His credentials for being a friend of Bowie are impeccable, he introduced him to Mick Ronson, witnessed him writing several of his most famous early songs such as Width of a Circle and was best man at his wedding to Angie. This is not some casual singer-drummer relationship, Cambo moved in with Bowie and Angie to their house, Haddon Hall, as did the other members of the band.
In one sense, this book is writing a lot about a little, but John Cambridge has a unique take on Bowie's early days. The start, end and start again of their friendship after many years is charming and reveals both Cambridge and Bowie to be good, decent people who value the roots they had put down decades earlier.
In fact, going one step further, perhaps there is something in Bowie's out of control Ziggy based persona that meant he liked to surround himself with people who were well grounded, straightforward, normal people. Maybe for all of his fame and his otherworldly personas, there was a part of him that relished down to earth activities such as staying with his drummer's mum and dad in a flat in Hull.
This tale forms a good part of Cambridge's story and is the end result of pages worth of build up. On face value, it isn't much of a story, but the image of an almost-Ziggy character being taken around Hull and being put up in a friend's parent's bed is charmingly anachronistic. In fact, the whole Hull connection is an odd one, juxtaposing Bowie's alien beauty with this old Yorkshire town.
The stay obviously meant something to David and Angie, as their letter to Cambo's parents illustrates. What we can take from this is an image of Bowie as a polite young man eager to connect with other people. There is also a more ruthless Bowie that hires and fires people depending on who will give him his best chance of success and fame. As had been detailed elsewhere, Bowie was hungry for fame and was quite prepared to be hard-hearted when necessary.
Cambo was a friend of Mick Ronson and repeatedly put him forward for the job of guitarist in Bowie's band, at that time going by the name of The Hype. When his suggestion wasn't acted upon, he took it upon himself to persuade Ronson to meet Bowie after a gig, where the two got on famously and, as the book says, 'altered the trajectory of popular music.'
Ronson's first gig with Bowie was a live broadcast for the BBC, a baptism of fire that can be heard below, along with Cambo's drumming.
Much is made of the 'what if' aspect of this. What would have happened if Cambo had failed to persuade Ronson to come to London or if he had taken Bowie's reluctance at face value. There is no doubt that Bowie's story would be very different and, as a result, maybe the glam era would also be significantly altered.
In truth, pop music is littered with these what-ifs, every band extant has their stories of the string of chances that lead them to where they are. The difference is that not every band had the cultural impact of David Bowie.
Cambo's fall from grace came when he was replaced by another Hull resident Woody Woodmansey.  This appears to have been Mick Ronson's idea and it was Ronson himself who delivered the news to Cambo. This understandably ended Cambo's friendship with both Bowie and Ronson and was a life changing moment for the drummer.
The end of the book tells the tale of how Cambo and Bowie found each other again and how their friendship then carried on. It is a tale that brings a smile to the face, as Bowie again seems to value their relationship and a link to more normal times.
Cambo has a story to tell that, on the surface, it may seem to focus on a small part of the Bowie legend. But it is a story that nobody else but him can tell. It is just an episode in Bowie's life, but it is one that affected both men enormously.
Bowie, Cambo and all The Hype is not just for Bowie completists but is a hugely entertaining read for all fans of his, glam rock and music in general. It is filled with great pathos but never resorts to self pity.
As all good origin stories should.
(Visited 11 times, 1 visits today)
Back