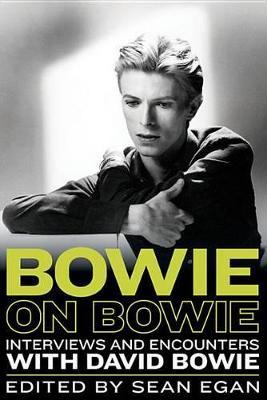 David Bowie Bowie on Bowie: Interviews and Encounters with David Bowie
Author:
Sean Egan
Category: Interview, Memories
Publisher:
Chicago Review Press
Published: May 1, 2015
ISBN-13: 9781569769775
Pages: 432
Country: USA
Language: English
Dimension: 22,9 x 15,2 x 3,6 cm | 726g
Description:
---
David Bowie has been one of pop music's greatest interviewees since January 1972, when he famously risked career death by asserting to Melody Maker that he was gay. Although he wasn't yet a big star, it was a groundbreaking moment. And over the years, Bowie has failed to give an uninteresting interview. It might be said that he has habitually used the media for his own ends, but he has paradoxically also been searingly honest, declining to ever be coy about his ambitions, his private life, and even his occasional ennui.
Bowie on Bowie presents some of the best interviews Bowie has granted in his near five-decade career. Each interview traces a new step in his unique journey, successively freezing him in time as young novelty hit-maker, hairy hippie, Ziggy Stardust, Aladdin Sane, the Thin White Duke, plastic soul man, fragile Germanic exile, godfather of the New Romantics, eighties sellout, Tin Machinist, and, finally, permanently, artistically reborn beloved elder statesman of challenging popular music. In all of these iterations he is remarkably articulate. He is also preternaturally polite–almost every interviewer remarks upon his charm.
The features in this book come from outlets both prestigious (MelodyMaker, Mojo, New Musical Express, Q, Rolling Stone) and less well-known (The Drummer, Guitar, Ikon, Mr. Showbiz). In all cases, Bowie enables the reader to approach the nerve center of his ferociously creative and prolific output.
(Visited 14 times, 1 visits today)
Back