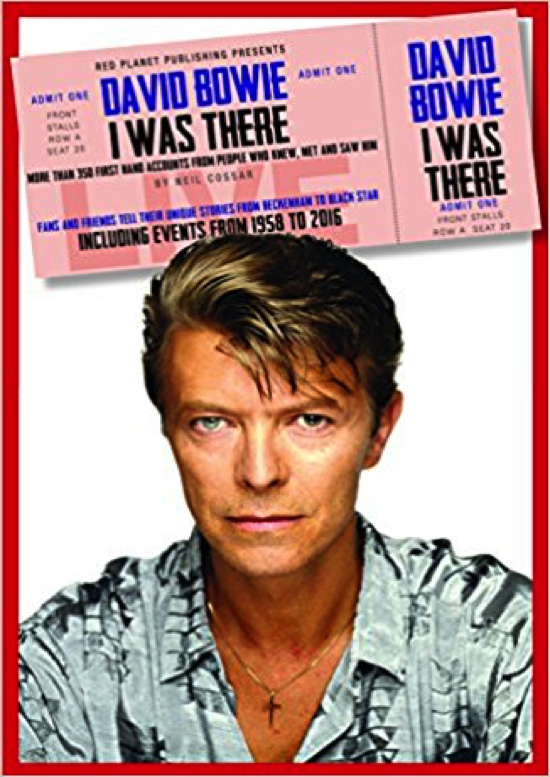 David Bowie I was there
Author:
Neil Cossar
Category: Biography, Colleagues, Concert information, Discography, Fans, Memories, Photo book, stories
Publisher:
Red Planet
Published: April 3, 2018
ISBN-13: 9781911346432
Pages: 448
Language: English
Dimension: 22,9 x 14,6 x 3,2 cm
File Size: Fully illustrated with 32 pages of unique colour images and throughout with memorabilia and orginal photos
Description:
---
During his lifetime, his record sales, estimated at 140 million worldwide, made David Bowie one of the world's best-selling music artists. This book provides a fan's-eye account from over 400 fans with their stories and experiences of seeing David Bowie live in concert.
As well as fan's accounts, the book features contributions from musicians who worked with Bowie live (Mike Garson, Earl Slick, Peter Frampton) and in the studio, soundmen, roadies, photographers and lifelong Bowie fans such as Mark Radcliffe, Marc Riley and Bob Harris.
During his early years from 1962 until 1970 Bowie played over 600 shows around the UK as a solo artist, (as Davie Jones) and as a member of The Konrads, The King Bees, The Manish Boys, The Lower Third and The Buzz.
From the 70's, Bowie played 12 major world tours, which saw him playing over 1,000 shows in total.
The book features fascinating anecdotes, stories, photographs and memorabilia from fans that have never been published before, making this book a portrait of one of the most influential musicians of his era.
About the Author
Neil Cossar has run thisdayinmusic.com, the website since 1999. It's probably the largest collection of musical history available on the internet and has been published as a book in three previous editions. This Day in Music has also released a series of iPhone Apps including Pink Floyd, Led Zeppelin, The Rolling Stones, Bob Dylan and more. A former musician, Neil has also worked as a radio presenter and PR working with the likes of INXS, Def Lepard, Queen, Glen Campbell, The Hollies and many others
(Visited 31 times, 1 visits today)
Back