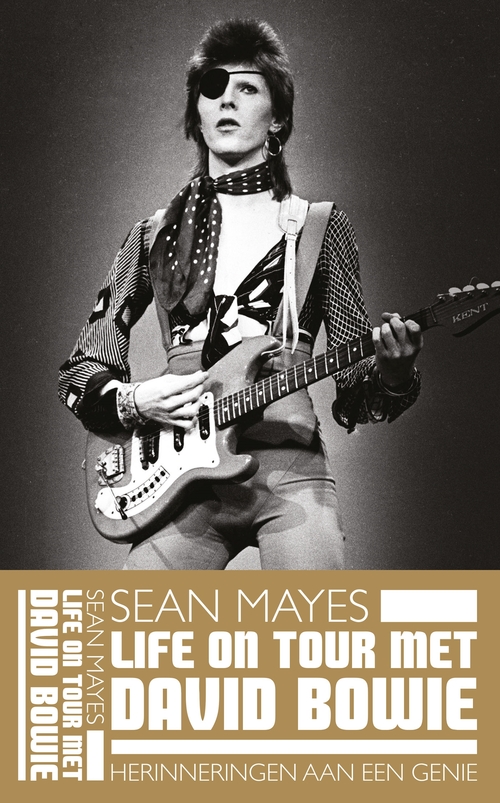 David Bowie Life on Tour with Bowie: Herinneringen aan een genie (Dutch)
Author:
Sean Mayes
Category: Concert information, Dutch, Photo book
Publisher:
Arcade
Published: July 1, 2016
ISBN-13: 9789048835614
Pages: 192
Country: Netherland
Language: Dutch
Dimension: 20 x 12,5 x 1,5 cm
Description:
---
Samenvatting
Sean Mayes gaat een jaar lang mee op tour met David Bowie. Dit levert een unieke kijk op in het leven van een van de grootste kunstenaars in de popmuziek.
'Het is allemaal hotels, limousines, steriele luchthavens – het leven dat ik op het punt stond te gaan leiden. Ik huiverde, kreeg het gevoel dat ik balanceerde op de top van een achtbaan, klaar om met een sneltreinvaart de wereld te doorkruisen.'
'It's not the side effect of the cocaine – I'm thinking that it must be love! Het is liefde. Elke lamp ging aan – spotlights aan, schijnwerpers op vol vermogen, fel neonlicht – het was verblindend. Ik werd haast van mijn stoel getild. Het was… het was overweldigend.'
Een collector's item voor alle fans van het icoon van rock, mode, kunst en design, en de ultieme voorvechter van de seksuele vrijheid.
Resume
When David sat down later, he tucked one leg up under him and I noticed that the sole of his shoe was as clean as the day he'd bought it. OK, maybe the shoes were new, but it struck me that he hardly ever sets foot in the street. It's all hotel, limousines, sterilized airports—the life I was about to lead. I shivered, feeling poised at the top of a rollercoaster about to sweep across the world.
In 1978, Sean Mayes toured the world with David Bowie. Traveling first class and performing each night with one of the world's greatest rock stars at the height of his fame was an amazing experience—fortunately, Sean had the foresight to document it. Here, for the first time in complete book form, Sean's tour diary is presented; a blow-by-blow record of how it felt to be part of a real rock circus, from rehearsals in Dallas through shows across the US, UK, Europe, Australasia, and Japan to recording in London and Switzerland. Providing page after page of fascinating insight into life on the road with Bowie, Sean's account is a unique travelogue, a must for any Bowie fan or, indeed, anyone interested in life on a sell-out world tour. Also included is a full tour chronology and previously unpublished photos from Sean's personal archive.
(Visited 6 times, 1 visits today)
Back