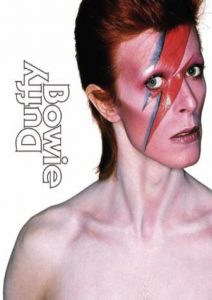 David Bowie Duffy Bowie: Five Sessions
Author:
K. Cann Chris Duffy
Category:
Photo book
Publisher:
ACC Art Books
Published: June 30, 2014
ISBN-13: 9781851497652
Pages: 212
Country: United Kingdom
Language: English
Dimension: 20 x 19,5 x 1,8 cm
Description:
---
"Talking about a creative session is like talking about a boxing match. It happened because there was a little bit of magic in the room that night. I'll say it myself, it's a fucking great cover." Brian Duffy
Brian Duffy defined the image of the 1960s, and was as famous as the stars he photographed. Together with David Bailey and Terence Donovan, he is recognized as one of the innovators of "documentary" fashion photography, a style which revolutionized fashion imagery and furthermore the fashion industry.
Duffy's most famous photograph dates from the 1970s and is the iconic and revolutionary cover of David Bowie's album Aladdin Sane, a shot that became the defining look of Bowie's long career, and has been referred to as the Mona Lisa of pop. The photographer and the rock star collaborated on four other projects: Ziggy Stardust, The Man Who Fell to Earth, Scary Monsters (and Super Creeps) and Lodger. They worked together during the pivotal years of Bowie's career; when the king of glam was assuming and discarding extraordinary personas, Duffy was capturing them all.
Written by David Bowie's biographer, Kevin Cann, Duffy Bowie: Five Sessions features anecdotes and stories from those attending the shoots-including Tony Defries (Bowie's manager at the time of Ziggy Stardust); Celia Philo (designer) & Philip Castle (airbrush artist) from the famous Aladdin Sane shoot; Francis Newman (Duffy's studio manager); May Routh (costume designer) from The Man Who Fell to Earth; Geoff MacCormack (musician and Bowie's childhood friend); Derek Boshier (art director of Lodger); Natasha Kornilof costume designer for Scary Monsters; Edward Bell (artist); Steve Strange (musician) and Duffy's son, Chris, who also worked on the Scary Monsters session. Included are many unseen images and behind the scenes photographs.
"It wasn't until we saw the contact sheets the next day I remember thinking, God this is spectacular. You just knew you had cracked it, boy, did you know it." Celia Philo
(Visited 31 times, 1 visits today)
Back