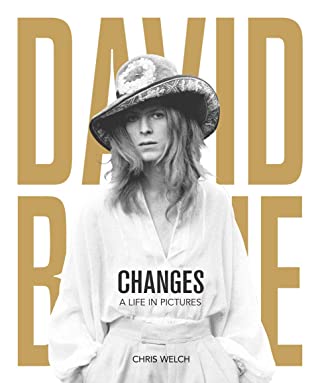 David Bowie Changes – A Life in Pictures 1947 – 2016
Author:
Chris Welch
Category: Biography, Photo book
Publisher:
Welbeck Publishing Group
Published: September 1, 2020
ISBN-13: 9781787394865
Pages: 160
Country: United Kingdom
Language: English
Dimension: 28,7 x 23,6 x 1,9 cm
Description:
---
David Bowie – Changes is a celebration of the international figure all starry-eyed hopefuls aspired to be when setting out on a path to fame and fortune in the music industry – whether they know it or not. Through more than 150 stellar photos, it tells the story of an artist the likes of which we'd never seen, and may never see again. Bowie had a glittering career fuelled by the spirit of reinvention – he left over 20 albums in his wake – and was as colourful in his style and image as he was in his music. If a picture says a thousand words, this book ranks as the definitive manual on how to leave a lasting legacy in the art scene.
About the Author
Chris Welch started out as a reporter on UK music weekly Melody Maker in the mid-1960s. He went on the road with Led Zeppelin, The Who, David Bowie and more during the 1970s. Chris has since worked on a variety of music magazines and written more than 20 books on rock music. His self-confessed finest hour was 'Playing conga drums, live on stage in Germany with Led Zep during "Whole Lotta Love"'.
(Visited 31 times, 1 visits today)
Back