SpongeBob SquarePants is an American animated television series created by marine biologist and animator Stephen Hillenburg. The series chronicles the adventures and endeavors of the title character and his various friends in the fictional underwater city of Bikini Bottom. The series' popularity has made it a media franchise, as well as the highest rated show to ever air on Nickelodeon, and the most distributed property of MTV Networks. The media franchise has generated $8 billion in merchandising revenue for Nickelodeon.
Many of the ideas for the series originated in an unpublished, educational comic book titled The Intertidal Zone, which Hillenburg created in the mid-1980s. He began developing SpongeBob SquarePants into a television series in 1996 upon the cancellation of Rocko's Modern Life, and turned to Tom Kenny, who had worked with him on that series, to voice the titular character. SpongeBob was originally going to be named SpongeBoy, and the series was to be called SpongeBoy Ahoy!, but these were changed, as the name was already trademarked.
Nickelodeon held a preview for the series in the United States on May 1, 1999, following the television airing of the 1999 Kids' Choice Awards. The series officially premiered on July 17, 1999. It has received worldwide critical acclaim since its premiere and gained enormous popularity by its second season. A feature film, The SpongeBob SquarePants Movie, was released in theaters on November 19, 2004, and a sequel is currently in production, with a projected release date of February 6, 2015. On July 21, 2012, the series was renewed and aired its ninth season, beginning with the episode "Extreme Spots
Theory: SpongeBob SquarePants Is A God (Seriously)
The iconic artist lent his voice to Lord Royal Highness in the musical episode "Atlantis SquarePantis", and while SpongeBob and Bowie might seem like an odd combination, Bowie had good reasons to take the role.
David Bowie Was A Big SpongeBob SquarePants Fan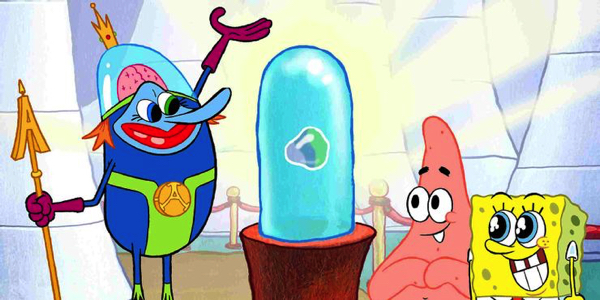 SpongeBob SquarePants Lord Royal Highness Bowie
"Atlantis SquarePants" is a special musical episode from season five of SpongeBob SquarePants and the series' first TV movie, followed by Truth or Square and SpongeBob' Big Birthday Blowout. In it, SpongeBob and Patrick discover a half of an ancient medallion that takes them (along with Sandy, Squidward, and Mr. Krabs) to the lost city of Atlantis. Once there, they meet Lord Royal Highness, a blue, alienish Atlantean who shows them around and who makes the huge mistake of leaving SpongeBob and Patrick alone with their most beloved, ancient, and fragile relic: the world's oldest bubble. Although the episode had a bunch of songs, Bowie didn't sing, but his character did share one particularity with him: one blue eye.
Bowie himself shared the news on his blog, where he showed that he was a fan of the series, saying he had at last "hit the Holy Grail of animation gigs", with Tom Kenny (Patchy the Pirate and SpongeBob's voice) later adding that the fact that he wanted to be in something his kids like is "what gets the ball rolling". Sadly, Bowie's work wasn't enough for the episode to win the approval of critics, who called it boring, flat, and unimaginative. However, this didn't stop Bowie's love for the series, and a modified version of his 1995 song "No Control" was used in the SpongeBob SquarePants Broadway musical. The episode didn't have the pleasure of counting with Bowie's singing voice, but it did provide what's, perhaps, the wisest line ever spoken in SpongeBob Squarepants: "art is what happens when you learn to dream". David Bowie was truly a man of many talents, and even if Stephen Hillenburg was never on board with having celebrity guest stars, Bowie's cameo is a very special one.
(Visited 23 times, 1 visits today)