Diamond Dogs is a concept album by David Bowie, originally released in 1974 on RCA Records, his eighth album. Thematically, it was a marriage of the novel Nineteen Eighty-Four by George Orwell and Bowie's own glam-tinged vision of a post-apocalyptic world. Bowie had wanted to make a theatrical production of Orwell's book and began writing material after completing sessions for his 1973 album Pin Ups, but the author's estate denied the rights. The songs wound up on the second half of Diamond Dogs instead where, as the titles indicated, the Nineteen Eighty-Four theme was prominent.
Tracklist
1. Future Legend (incl. Bewitched, Bothered and Bewildered (Richard Rodgers)) – 1:05
2. Diamond Dogs – 5:56
3. Sweet Thing – 3:39
4. Candidate – 2:40
5. Sweet Thing (Reprise) – 2:31
6. Rebel Rebel – 4:30
7. Rock 'n' Roll With Me (Bowie, Warren Peace) – 4:00
8. We Are the Dead – 4:58
9. 1984 – 3:27
10. Big Brother – 3:21
11. Chant of the Ever Circling Skeletal Family – 2:00
1990 Rykodisc/EMI
Dr. Toby Mountain at Northeastern Digital, Southborough, Massachusetts, remastered Diamond Dogs from the original master tapes for Rykodisc in 1990 with two bonus tracks and the original, uncensored, artwork. "Future Legend" stops at 1:01 and "Diamond Dogs" has 6:04 in this version.
Bonus tracks (1990 Rykodisc/EMI)
"Dodo" (Recorded 1973, previously unreleased) – 2:53
"Candidate" (Demo version, very different musically and lyrically, recorded 1974, previously unreleased) – 5:09
1999 EMI/Virgin.
The album was remastered by Peter Mew at Abbey Road Studios, and released without bonus material.
2004 EMI/Virgin
The third in a series of 30th Anniversary 2CD Editions, this release included a remastered version of Diamond Dogs on the first disc. The second disc contains eight tracks, five of which had been previously released on the Sound + Vision box set in 1989 or as bonus tracks on the 1990-92 Rykodisc/EMI reissues.
Bonus CD (2004 EMI/Virgin)
All songs written by David Bowie, except where noted.
"1984/Dodo" (Recorded 1973) – 5:29
"Rebel Rebel" (From "Rebel Rebel" US single A-Side, 1974) – 3:00
"Dodo" (Also known as "You Didn't Hear It from Me", Recorded 1973) – 2:53
"Growin' Up" (Bruce Springsteen) (Recorded 1973) – 3:25
"Candidate" (Demo version, very different musically and lyrically, recorded 1974, previously unreleased) – 5:09
"Diamond Dogs" (K-Tel The Best of Bowie edit, 1980) – 4:41
"Candidate" (Intimacy mix, 2001) – 2:58
"Rebel Rebel" (2003 mix) (From Reality Bonus Disc) – 3:09
Packaging
The cover artwork features Bowie as a striking half-man, half-dog grotesque painted by Belgian artist Guy Peellaert, based on photographs of Bowie by Terry O'Neill. It was controversial as the full image on the gatefold cover showed the hybrid's genitalia. Very few copies of this original cover made their way into circulation at the time of the album's release.[citation needed] According to the record-collector publication Goldmine price guides, these albums have been among the most expensive record collectibles of all time, as high as thousands of US dollars for a single copy.[citation needed] The genitalia were airbrushed out from the 1974 LP's sleeve on most releases, although the original image was included on the Rykodisc/EMI rerelease of the album in 1990, and subsequent reissues have included the uncensored artwork. (The 1990 packaging also resurrected a rejected inner gatefold image featuring Bowie in a sombrero cordobés holding onto a ravenous dog; like the cover, this artwork was a Guy Peellaert image based on a photograph captured by Terry O'Neill.)
Singles
1974 "Rebel Rebel"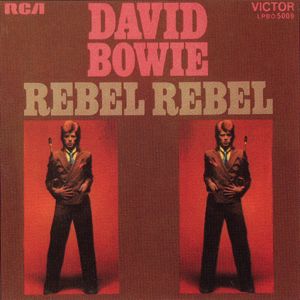 Following the break up of the Spiders from Mars, David returned to the recording studio as a true solo artist. A planned musical based upon George Orwell's "1984" had to be shelved because the necessary permissions were refused by Orwell's widow. Instead, David used the songs he had already written for it on a new album.
Recording sessions commenced at the Olympic Studios in Barnes, South London in October 1973 and continued until February of the following year. Early recorded demos during this period include "Candidate" (written specifically for the "1984" musical) and "Take It In Right" which eventually became "Can You Hear Me". In addition, a tape master from the sessions reveals that the album's title track was originally "Diamond Dawgs".
David himself played most of the instruments although some other musicians were called upon to assist. These were Mike Garson (piano), Aynsley Dunbar (drums), Tony Newman (drums), Herbie Flowers (bass) and Alan Parker (guitar). It is thought that Ron Wood and Keith Christmas also helped on the recordings but these are not credited on the "Diamond Dogs" album sleeve. The sessions were Engineered by Keith Harwood, who had previously worked with the Rolling Stones, whilst Tony Visconti helped to mix.
In February 1974 David visited Amsterdam where he appeared on the Dutch TV Show "Top Pop" miming to "Rebel Rebel". During this trip, finishing touches were made to the album at Studio L Ludolf in Hilversum.
The original album cover featured artwork by Belgian artist Guy Peellaert showing a naked David as half-man half-dog. This was deemed as being too risqué by RCA in America who ordered that the dog's genitalia be airbrushed out. A handful of the original, non-censored RCA sleeves did survive and one of these recently changed hands for $8000.
It was planned to use another Guy Peellaert painting on the inside of the gatefold sleeve (based upon a photograph taken by Terry O'Neill) but this was dropped in favour of some images taken by MainMan photographer Leee Black Childers.
The first single to be released from the album was an edited version of "Rebel Rebel" although a specially re-recorded version of this song was issued as a single in the US, Canada and Mexico.
The follow-up single was the full length title track (with the exception of Australia who issued a 2' 58 edited version). Some countries – notably the US and New Zealand – issued "1984" as the second single, whilst Japan issued both "Diamond Dogs" and "1984" as follow-up singles.
Incidentally, the audience that can be heard at the end of "Future Legend" and the beginning of "Diamond Dogs" was lifted from the Faces live album "Coast to Coast / Overture and Beginners", the "Hey" is the voice of Rod Stewart!
David Bowie – Diamond Dogs TV Commercial

[real3dflipbook id="40″]
FLIP BOOK > David Bowie Diamond Dogs
[real3dflipbook id="79″]
NOTE
THANKS/INFO THE YOUNG AMERICAN
.
(Visited 632 times, 1 visits today)