Serious Moonlight is the title of a David Bowie concert video; originally filmed on the singer's 1983 "Serious Moonlight Tour" in Vancouver (12 September night), it was released on video and laserdisc in 1984 and on DVD in 2006. The concert includes most of the songs from the concert although Star, Stay, The Jean Genie, Red Sails and Modern Love were left off the release due to time constraints (although they were not reinstated for the 2006 DVD release).
A live version (audio only) of "Modern Love", recorded in 1983 at a show in Montreal and originally released as the b-side to the studio version of the same song, can be found elsewhere on the 2006 DVD release as background music for the photo gallery.
Track listing
All songs were written by David Bowie, except where noted.
01. Introduction" – Look Back in Anger" (Bowie, Brian Eno) (from Lodger)
02. "Heroes" (Bowie, Eno) (from "Heroes")
03. What in the World" (from Low)
04. Golden Years" (from Station to Station)
05. Fashion" (from Scary Monsters (and Super Creeps))
06. Let's Dance" (from Let's Dance)
07. Breaking Glass" (Bowie, Dennis Davis, George Murray) (from Low)
08. Life on Mars?" (from Hunky Dory)
09. Sorrow" (Feldman, Goldstein, Gottehrer) (from Pin Ups)
10. Cat People (Putting Out Fire)" (Bowie, Giorgio Moroder) (from Let's Dance)
11. China Girl" (Bowie, Iggy Pop) (from Let's Dance)
12. Scary Monsters (and Super Creeps)" (from Scary Monsters (and Super Creeps))
13. Rebel Rebel" (from Diamond Dogs)
14. White Light/White Heat" (Lou Reed)
15. Station to Station" (from Station to Station)
16. Cracked Actor" (from Aladdin Sane)
17. Ashes to Ashes" (from Scary Monsters (and Super Creeps))
18. Space Oddity/Band introduction" (from David Bowie)
19. Young Americans" (from Young Americans)
20. Fame – End Credits" (Bowie, John Lennon, Carlos Alomar) (from Young Americans)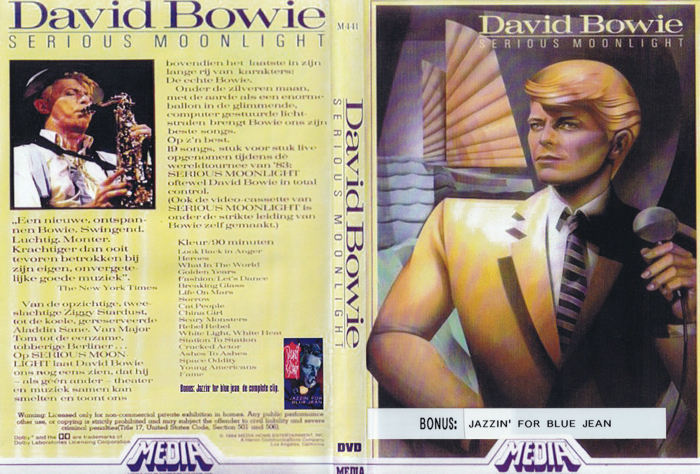 (Visited 66 times, 1 visits today)