Stage is David Bowie's second live album, recorded on the Isolar II world tour, and released by RCA Records in 1978. First UK pressings were on translucent yellow vinyl and some European pressings were also available on blue vinyl. Though it was rumoured at the time that this would be his final outing with the label, following dissatisfaction over the promotion of Low and "Heroes", Bowie would in fact remain with RCA until 1982.
Tracking list
"Warszawa" (Bowie, Eno) — 6:50
""Heroes"" (Bowie, Eno) — 6:19
"What in the World" — 4:24
"Be My Wife" (bonus track) — 2:35
"Blackout" — 4:01
"Sense of Doubt" — 3:13
"Speed of Life" — 3:44
"Breaking Glass" (Bowie, Davis, Murray) — 3:28
"Beauty and the Beast" — 5:08
"Fame" (Bowie, Lennon, Alomar) — 4:06
"Five Years" — 3:58
"Soul Love" — 2:55
"Star" — 2:31
"Hang on to Yourself" — 3:26
"Ziggy Stardust" — 3:32
"Art Decade" (Bowie, Eno) — 3:10
"Alabama Song" (Brecht, Weill) — 4:00
"Station to Station" — 8:55
"Stay" (bonus track) — 7:17
"TVC 15" — 4:37

David Bowie – Breaking Glass – 1978 Live Promo
The recording was culled from concerts in Philadelphia, Providence and Boston, USA, in late April and early May 1978. It primarily included material from Bowie's most recent studio albums to that date, Station to Station, Low and "Heroes" but, in a surprise show of nostalgia, also featured five songs from The Rise and Fall of Ziggy Stardust and the Spiders from Mars. Aside from Bowie's core team of Carlos Alomar, Dennis Davis and George Murray, band members included ex-Frank Zappa sideman Adrian Belew on guitar, Simon House from Hawkwind on electric violin, Roger Powell, best known for his work with Todd Rundgren in the group Utopia, on keyboards and Sean Mayes on piano, string ensemble and backup vocals. All would reunite the following year on Bowie's next studio LP, Lodger.
Generally considered more relaxed than Bowie's previous live album, David Live (1974), Stage was praised on its initial vinyl release for the fidelity with which the band was able to emulate in concert the electronic and effects-filled numbers from Low and "Heroes", as well as for the singer's vocal performance. However, it was criticised for lacking a 'live' atmosphere, thanks to the recording being largely taken from direct instrument and microphone feeds which increased sound quality but minimised crowd noise. The original concert running order was also changed, with fades between tracks similar to a studio album.
As Bowie rarely tampered with the arrangements – in contrast to his method on David Live – Stage added little to what was available on the original albums, and hence was seen by some commentators as simply a marketing exercise that did not do justice to a memorable series of live concerts. Even the cover picture came in for criticism, more so because the rest of the package contained only variations of the same shot.
Stage reached No. 5 in the UK album charts but only No. 44 in the US. "Breaking Glass," which originally appeared in shorter form on Low, was released as a single.
A 2005 reissue saw most of the criticisms of the original LP addressed, and the new version garnered some favourable reviews.
SINGLE RELEASE
1978 Breaking Glass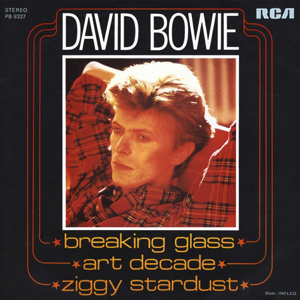 Personnel
David Bowie – vocals, keyboards
Carlos Alomar – rhythm guitar, backing vocals
George Murray – bass, backing vocals
Dennis Davis – drums, percussion
Adrian Belew – lead guitar, backing vocals
Additional personnel
Simon House – violin
Sean Mayes – piano, string ensemble, backing vocals
Roger Powell – synthesizer, keyboards, backing vocals
Jan Michael Alejandro – Band Tech
Vern "Moose" Constan – Band Tech
Rob Joyce – Stage Manager
Leroy Kerr – Band Tech
Edd Kolakowski – Piano and Keyboard Tech (Australia, New Zealand and Japan dates)
.
(Visited 1,425 times, 1 visits today)