David Bowie 1996-xx-xx Holy Unorthodox – Moscow 18-06-96 – Tel Aviv 03-07-96 – Balingen 20-07-96 – SQ 8/9
A selection of tracks from three different shows during the Outside Tour. The first set comes from The Kremlin, Moscow on the 18th June 1996.
The second set is from the show in Tel Aviv, Israel on July 3rd 1996. The final set comes from Balingen in Germany on July 20th 1996.
Moscow, Kremlin Palace Concert Hall 18-06-1996
101 The Motel.flac
102 Scary Monsters.flac
103 Aladdin Sane.flac
104 The Man Who Sold The World.flac
105 Strangers When We Meet.flac
106 Hallo Spaceboy.flac
107 Under Pressure.flac
108 'Heroes'.flac
109 White Light White Heat.flac
110 Moonage Daydream.flac
111 All The Young Dudes.lac
Tel Aviv, Hayarkon Park 03-07-1996
112 The Voyeur Of Utter Destruction (As Beauty).flac
113 The Man Who Sold The World.lac
201 Hallo Spaceboy.flac
202 Breaking Glass.flac
203 Baby Universe.flac
204 Jump They Say.flac
205 Under Pressure.flac
206 "Heroes".flac
Balingen Festival 20-07-1996
207 Jump They Say.flac
208 Under Pressure.flac
209 'Heroes'.flac
210 Strangers When We Meet.flac
211 Lust For Life.flac
212 All The Young Dudes.flac
213 White Light White Heat.flac
214 Moonage Daydream.flac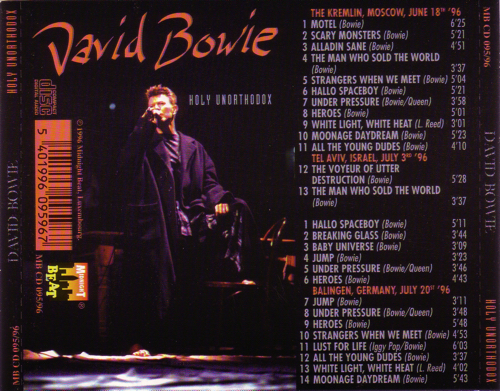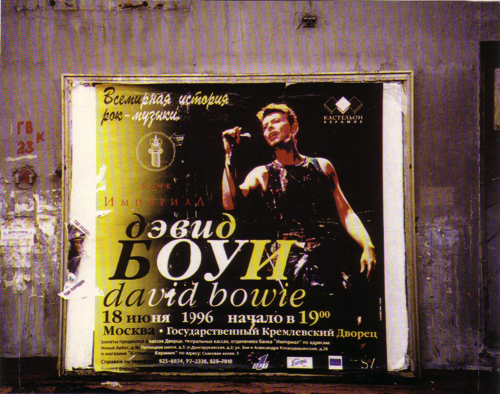 The Moscow concert quality is not very good at all.
There are parts of the Tel Aviv show, and sound quality is very good.
The Balingen show (second part of the show) is also in excellent sound quality.
(Visited 533 times, 1 visits today)