David Bowie 1990-05-24 California ,Expo Sacramento SQ -8
101 – Space oddity.flac
102 – Changes.flac
103 – Rebel Rebel.flac
104 – Be my wife.flac
105 – Ashes to ashes.flac
106- Fashion.flac
107 – Life on mars.flac
108 – Lets dance.flac
109 – Stay.flac
110 – Band introduction.flac
111 – China girl.flac
201 – Sound and vision.flac
202 – Ziggy stardust.flac
203 – Station to station.flac
204 – Young americans.flac
205 – Suffragette city.flac
206 – Fame.flac
207 – "Heroes".flac
208 – Pretty pink rose.flac
209 – Panic In detroit.flac
Total duration: 45:36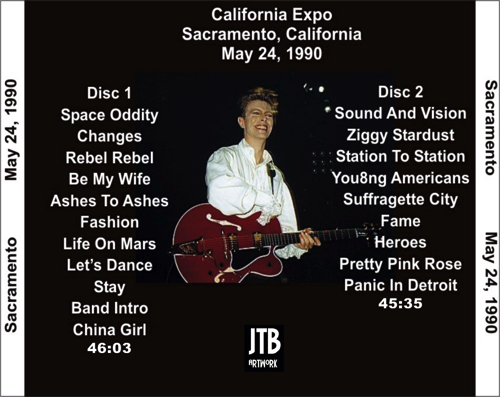 Note
The david bowie goodbye words are missing, wich he did after Panic In Detroit.
The sound quality is very good,
Sacramento resident Brad Warren had the opportunity to see Bowie in concert six times, including once in Sacramento at Cal Expo for Bowie's 1990 Sound and Vision tour.
"He wore black pants, a white frilled shirt and a black vest and was the Thin White Duke that night. For the encore, he roughed up and started with Ziggy Stardust saying, "this is a song about a little girl with pink hair and no eyebrows," recalls Warren. "During the show someone threw an orange on stage which he caught, took a large theatrical bite from and then spewed back out into the crowd! I think for all the young artistic types back then we were all drawn towards him and his music. We felt a bit alien and he celebrated that."
Bowie's far-reaching influence on music, fashion and culture is undeniable. Beyond that, he gave the disenfranchised, the alien, the "weirdos" permission to be themselves.
"He made it ok to be a weirdo," says Johnny Taylor. "If I liked something that wasn't popular, I remember thinking 'why should I care what anybody thinks – would David Bowie care what anybody thinks?'"
(Visited 209 times, 1 visits today)