David Bowie 1976-02-03 Seattle ,Center Coliseum – Seattle 1976 – (Captain Acid Remaster).
Sound Quality Rating
101. Intro.flac
102. Station To Station.flac
103. Suffragette City.flac
104. Im Waiting For The Man.flac
105. Word On A Wing.flac
106. Stay.flac
107. TVC 15.flac
108. Sister Midnight.flac
201. Life On Mars?.flac
202. Five Years.flac
203. Panic In Detroit (inc. Drum Solo).flac
204. Fame.flac
205. Changes.flac
206. The Jean Genie.flac
207. Queen Bitch.flac
208. Rebel Rebel.flac
Label: No label
Audio Source: audience
Taping Gear: Tandberg Model 11 R2R deck, Sony ECM-22P mic
Lineage: JEMS master recording > Master Reels @ full track mono>Tandberg Model 11>Wavelab 96/24 1ch mono>wav 44.1/16 2ch mono>flac
Total running time: 1:30:07
Sound Quality : noise ,dull ,but still good listened to
Attendance: 15.000
Artwork: None.
Remastered : By Captain Acid
Notes:
Excellent sounding recording and performance. This recording captures Bowie on the second night of his Isolar world tour in support of the album Station To Station. This was Bowie at his most rocking before he would switch directions and move towards more experimental electronic music of the Berlin Trilogy to follow.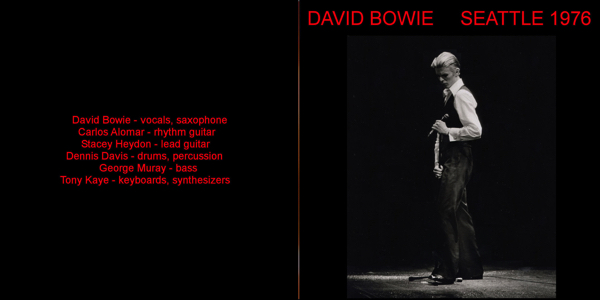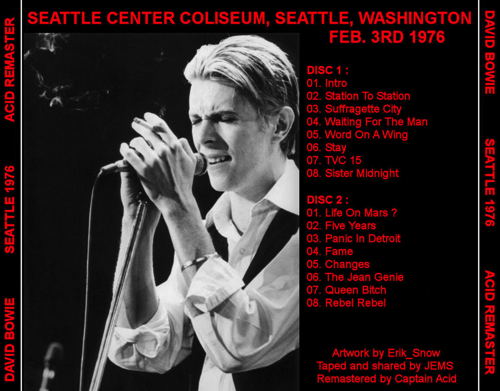 Band
David Bowie – vocals, saxophone
Raw Moon – rhythm guitar
Carlos Alomar – rhythm guitar
Stacey Heydon – lead guitar
Dennis Davis – drums, percussion
George Muray – bass
Tony Kaye – keyboards, synthesizers
.
(Visited 602 times, 1 visits today)