David Bowie 1976-04-11 Hamburg ,Kongress Zentrum – Hamburg 1976 – (version 2 ,Remastered) –
Sound Quality Rating
101 . Station To Station.flac
102 . Suffragette City.flac
103 . Fame.flac
104 . Word On A Wing.flac
105 . Stay.flac
106 . Waiting For The Man.flac
107 . Queen Bitch.flac
108 . Life On Mars ?.flac
109 . Five Years.flac
201 . Panic In Detroit.flac
202 . Changes.flac
203 . TVC – 15.flac
204 . Diamond Dogs.flac
205 . Rebel Rebel.flac
206.The Jean Genie.flac
Label: No label
Audio Source: audience (mono recording)
Lineage:
Total running time: 1:33:50
Sound Quality : Much noise ,dull ,but still good listened to
Attendance: 3.000
Artwork: by Eric Snow.
Remastered : by Captain Acid
During the band intro Bowie says twice in a lazy voice: "A very good evening to you,good evening". Also he introduces Dennis Davis twice,upon which he bursts out laughing! ,and of the end "My Name is David Bowie"
This concert Bowie acts really odd, right in the middle of the show he suddenly says: "This is a hospital. Don't you think it's a hospital in here?"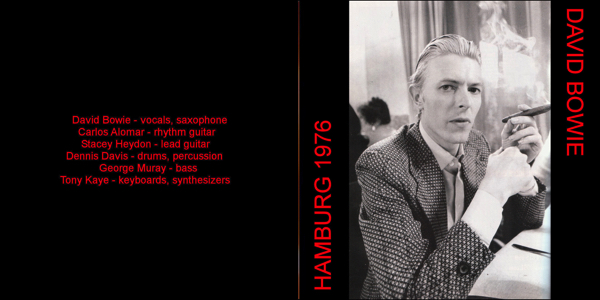 David Bowie live 1976 Hamburg (audio)
comments:
David Bowie 1976-04-11 Hamburg ,Kongress Zentrum – Hamburg 1976:
This concert Bowie acts really odd, right in the middle of the show he suddenly says: "This is a hospital. Don't you think it's a hospital in here?"
I remember this concert. It was a very cold atmosphere. After his remark he went from the stage to an empty seat, watching his band playing for a while. Still nobody moved. He went back to the stage and just in front people were realizing what was going on and started to jump on him. Hospital was gone.
Very nice to find this audio after 40 years :-).
Thanks,
Thomas
Tour band Isolar 1976:
David Bowie – vocals, saxophone
Raw Moon – rhythm guitar
Carlos Alomar – rhythm guitar
Stacey Heydon – lead guitar
Dennis Davis – drums, percussion
George Muray – bass
Tony Kaye – keyboards, synthesizers
.
.
(Visited 278 times, 1 visits today)