David Bowie 1972-08-20 London ,Rainbow Theatre – Ziggy Live At The Rainbow 1972 –
Sound Quality Rating
01. Ode to Joy.flac
02. Lady Stardust.flac
03. Hang Onto Yourself.flac
04. Ziggy Stardust.flac
05. Life On Mars.flac
06. The Supermen.flac
07. Changes.flac
08. Five Years.flac
09. Space Oddity.flac
10. Andy Warhol.flac
11. My Death.flac
12. Width of a Circle (Cut).flac
13. Wild Eyed Boy From Freecloud.flac
14. Starman.flac
15. Moonage Daydream.flac
16. Queen Bitch.flac
17. Suffragette City.flac
18. White Light White Heat.flac
19. Waiting For The Man.flac
Label: No label
Audio Source: audience
Total running time: 1:23:01
Sound Quality: noise ,dull ,but still good listened to
Attendance: 3.000
This is as good if not better than the famous Maloney Boston recording and must rank as one of the best Ziggy audience recordings. Part of this show has been booted as "Rainbow Theatre" and complete as "Rainbow – The Magic Theatre", It is certainly an upgrade on both of these.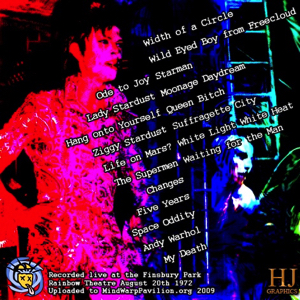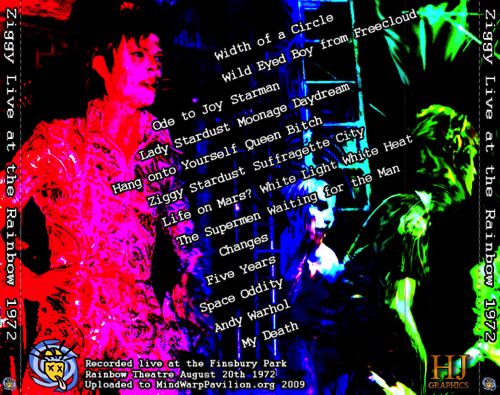 "At the end of one of the Rainbow concerts, David said sorry for not doing an encore but they had played all the songs they knew!!" – Cliff Masters (2001)
A slider with the ID of 5 doesn't exist.
.
.
(Visited 835 times, 3 visits today)