David Bowie 1972-11-25 Cleveland ,Public Auditorium (16RM)
Sound Quality Rating very good. Equals record or radio apart from a slight noise and some dullness.
01 Intro.flac
02 Hang Onto Yourself.flac
03 Ziggy Stardust.flac
04 Changes.flac
05 The Supermen.flac
06 Life On Mars.flac
07 Five Years.flac
08 Announcement.flac
09 Space Oddity.flac
10 Andy Warhol.flac
11 Drive-In Saturday (acoustic version).flac
12 The Width Of A Circle.flac
13 John, I'm Only Dancing.flac
14 Moonage Daydream.flac
15 Band Introductions.flac
16 Waiting For The Man (incomplete).flac
17 The Jean Genie.flac
18 Encore Call.flac
19 Rock 'n Roll Suicide.flac
20 Outro.flac
Audio Source: audience
Lineage: This tape was donated to BowieStation
Total running time: 1:28:59
Note: very good. Equals record or radio apart from a slight noise and some dullness.
Attendance: 10.000 Sold out > 10.000
Artwork: by MossGarden.
Remake > Remastered by Neil Wilkes.
An audience recording of a complete Ziggy Stardust show.
Killer performance in front of his favorite US fans at the time. I believe this was his third performance in Cleveland in two months. Worth the download just for the mind-blowing rendition of "Width."
Prior to playing "Drive in Saturday," David asks all of the tapers to leave as he is about to play an unreleased song
"I'd been asked to ask the people who have …. good evening everybody ….Then I should ask if people who were standing could sit down.I'd appreciate it and a lot of other people would. Thank you . I'm sure you will."
This recording is a couple of minutes too long to fit to on a CD. An alternate outro is included, that can be used instead of the full outro to burn to CD.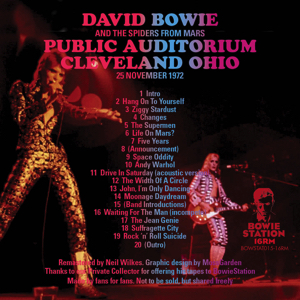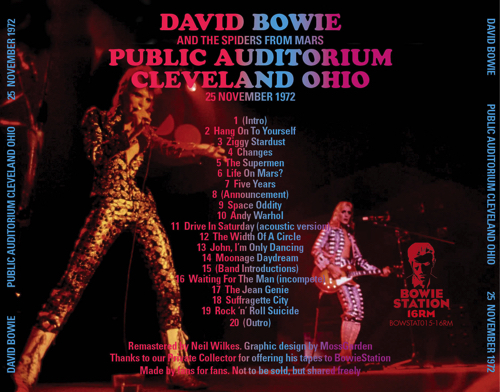 The Band:
David Bowie – Guitar, Lead Vocal
Mick Ronson – Guitar, Bass Guitar on Space Oddity, Backing Vocal
Trevor Bolder – Bass Guitar
Mick (Woody) Woodmansey – Drums
Mike Garson – Piano
uch is Bowie's popularity now that the Cleveland Public Hall is used for these two concerts rather than the smaller capacity Music Hall, which was used for the first Cleveland concert. Both the Music Hall and Public Hall shared the same back-to-back stage. Both halls are still being used today.
(Visited 463 times, 1 visits today)