David Bowie 2004-06-25 Scheesse ,Eichenring – Hurricane Festival – Matrix of 2 audience recordings – Big sound upgrade! – SQ 8+
01 Intro.flac
02 Rebel Rebel.flac
03 Fame .flac
04 Battle For Britain.flac
05 Sister Midnight.flac
06 New Killer Star.flac
07 Cactus.flac
08 All The Young Dudes.flac
09 China Girl.flac
10 Modern Love.flac
11 Station To Station.flac
12 The Man Who Sold The World.flac
13 Changes.flac
14 The Loneliest Guy.flac
15 Band Introduction.flac
16 Under Pressure.flac
17 Ashes To Ashes.flac
18 Quicksand.flac
19 I'm Afraid Of Americans.flac
20 Heroes.flac
21 Encore Call.flac
22 Life On Mars.flac
23 Suffragette City.flac
24 Ziggy Stardust.flac
Setlist (length 102:17 min.)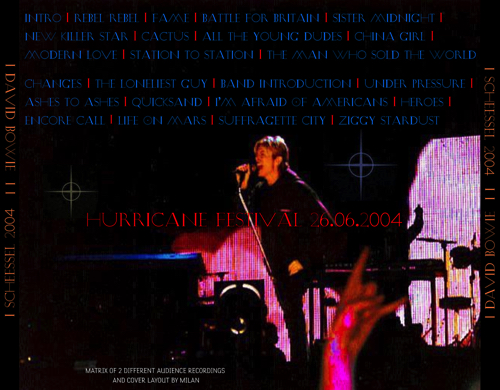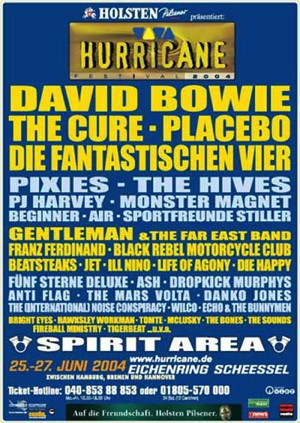 Reality tour band 2004:
David Bowie vocals, guitars, stylophone, harmonica
Earl Slick guitar
Gerry Leonard guitar, backing vocals
Mark Plati bass guitar, guitar, backing vocals
Gail Ann Dorsey bass guitar, backing vocals
Sterling Campbell drums
Mike Garson keyboards, piano
Catherine Russell keyboards, percussion, acoustic guitar, backing vocals
David Bowie, Hurricane Festival, 25.06.2004.
As one of the most inventive performers of the rock era, David Bowie's concerts were always a spectacle. That's just one of the reasons why it's such a disappointment that he hasn't staged a concert since June 25, 2004, when a major health scare forced him to cancel his tour in support of the previous year's album, 'Reality.'
Following that date, at the Hurricane Festival in Scheessel, Germany, Bowie had an emergency angioplasty. The problem started a couple of days earlier during a show in Prague, when he started feeling pain in his left shoulder and abruptly ended his concert. Tests revealed an acutely blocked artery, and the final month of the European tour was shelved.
That wasn't the only problem on tour. A week prior, in Oslo, Bowie was hit in the eye by a lollipop that had been thrown by a fan. More seriously, his Miami concert was cancelled when a lighting technician died after falling from the rig above the stage before the show. Still, a DVD comprised of footage from the two Dublin shows was released in 2010.
Since then, Bowie has only made a handful of guest appearances, sitting in with Arcade Fire in 2005 and David Gilmour a year later. That November, he joined Alicia Keys at a benefit concert in New York, and has not sung in public since. He did not tour behind the release of 2013′s acclaimed 'The Next Day,' his first album since 'Reality.'
November 2014 released "Nothing Has Changed"
.
Both recordings are very good whereas rec. 1 is a bit thin on the low frequencies and rec. 2 the same on higher frequencies but very powerful on the bass side. The big disadvantage of both recordings is the high amount of screamers and hand clappers which were near the tapers. Also on the Matrix this could not be reduced a lot but I tried it nevertheless mainly between songs. Of course this is typical for festival recordings where the tapers usually are quite far away from the PA and the audience noise is dominating. Also only a part of the audience are fans of the respective bands playing which is documented here at several sequences, for instance during Killer Star a girl is stating that she doesn't like the music and later just before rushing into All The Young Dudes David is complaining about a bunch of people sleeping while he is playing.
Nevertheless this is a great show and you wouldn't guess that David is struggling with a signalizing desease.
I did this Matrix mainly because it is the last show he ever did (with the exception of some short live appearances here and then in the forthcoming years) and this deserves something special. Also these 2 exsisting recordings (the 2nd one I stumbled across just 2 weeks ago) are quite far from being perfect and the Matrix delivers at least music wise a really good, near excellent sound. Only at some passages you can realize that it is an outdoor recording with influences of wind (and thus also influencing the the sound level and pitch).
Talking of wind: It seems that it was also quite chilling during the show as David is mentioning this several times and later he puts on a sweater (the sweater can be seen in the video during Heroes).
What I don't understand is that almost everywhere this show is listed as 25.06. whereas it really took place one day later. This is documented in several reports about the show in the web (mainly in German).
Another myth is that David had collapsed after the show. In reality he was anguished by shoulder pains and after he left the stage contacted a German doctor who diagnosed a clogged artery and he was immediately transferred to a hospital where he got a stent inserted.
Due to the importance of the show I made some cover art which you can find attached. The photos I used are from the actual show.
Also a copy of the festival poster is attached.
As we all know a part of the show was broadcast by TV station ARTE, I'm Afraid Of Americans, All The Young Dudes and Heroes.
I also recorded this way back then with my VHS recorder. These songs were later broadcast at at least one other TV station and the existing recordings are quite ok. Nevertheless the question is: did ARTE record the whole show and will we ever have the chance to see it?
Also it would be nice to have the 2nd recording as flac. But I think here with the Matrix this doesn't matter too much.
.
(Visited 626 times, 1 visits today)