David Bowie 1987-06-20 London ,Wembley Stadium (A Doctordavros master recording).
Sound Quality Rating Much noise ,dull ,but still good listened to
01. INTRO ..flac
02. UP THE HILL BACKWARDS..flac
03. GLASS SPIDER..flac
04. UP THE HILL BACKWARDS ( REPRISE )..flac
05. DAY IN – DAY OUT..flac
06. BANG,BANG..flac
07. ABSOLUTE BEGINNINGS..flac
08. LOVING THE ALIEN..flac
09. CHINA GIRL..flac
10. FASHSON..flac
11. SCARY MONSTERS..flac
12. ALL THE MADMEN..flac
13. NEVER LET ME DOWN..flac
14. BIG BROTHER-DRUM SOLO-CHANT OF THE EVER..flac
15. '87 & CRY..flac
16. "HEROES"..flac
17. TIME WILL CRAWL..flac
18. BEAT OF YOUR DRUM..flac
19. SONS OF THE SILENT AGE..flac
20. DANCING WITH THE BIG BOYS..flac
21. ZEROES,.flac
22. LETS DANCE..flac
23. FAME..flac
24. TIME..flac
25. BLUE JEAN..flac
26. MODERN LOVE-OUTRO MUSIC.flac
Label : No label – Doctordavros series
Audio Source : audience
Lineage : Sony TCS-310 Hand Held Tape Recorder With Internal Stereo Mics – TDK-AD c60+c90 Master Tape
Taper: ???
Recording Location: ???
Total running time : 2:08:00
Sound Quality :
Attendance : 70.000
Artwork : None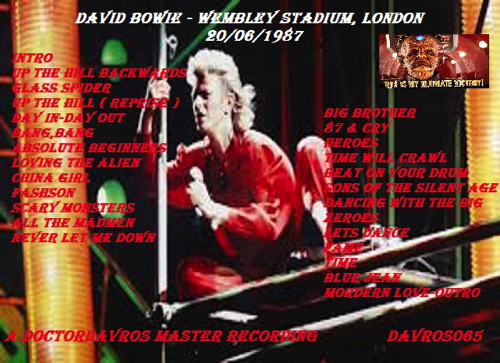 Welcome to Doctordavros series of mostly uncirculated masters & very low generation shows that he recorded or received in trades in his younger days most of his masters .
have not been circulated or only traded once or twice i used to trade a lot in the 70s – 80s & he have many many shows well in excess of 7,500 tapes Of these shows about 120 – 150 are Doctordavros masters they where always on my trading list but not many got traded so he boxed them all up in the late 80s now he have decided to go through them & upload some of them.
To record theses shows Doctordavros used a Sony portable hand held tape recorder with built in stereo mics. Doctordavros always used good quality tapes to record on mainly T.D.K.
Doctordavros used to insert the tape deck in a empty coffee flask with the inside taken out of the flask to get past the security ah those where the days.
The only thing Doctordavros ask is please don't sell these recording & don't convert to MP3 etc & if you do ( only for your own use ). Please donít change any of the files or info files etc this is so that people can tell the difference between this source & other sources as many people like to compare different versions of shows.
Also please do not remaster these shows the reason for this is these days there are far to many remasters of shows. Its ok have one remaster etc, but some are remastered that many times by different people there can be at least 10 different remasters of a show from the same source & it can get a bit tedious.
Tour band 1987 – The Glass Spider Tour
• David Bowie – vocals, guitar
• Peter Frampton – guitar, vocals
• Carlos Alomar – guitar, backing vocals, music director
• Carmine Rojas – bass guitar
• Alan Childs – drums
• Erdal Kızılçay – keyboards, trumpet, congas, violin, backing vocals
• Richard Cottle – keyboards, saxophone, tambourine, backing vocals
Tour dancers
• Melissa Hurley
• Constance Marie
• Spazz Attack (Craig Allen Rothwell)
• Viktor Manoel
• Stephen Nichols
• Toni Basil (choreography)
Tour design
• Allen Branton – Lighting design
• Mark Ravitz – Set design
• Christine Strand – Video director
| | |
| --- | --- |
| [real3dflipbook id="5″] | [real3dflipbook id="6″] |
| David Bowie The Glass Spider Tour Boek part 1 | David Bowie The Glass Spider Tour Boek part 2 |
.
(Visited 230 times, 1 visits today)