David Bowie 1987-11-03 Sydney ,Entertainment Centre – Day In Day Out – (FM Radio Broadcast) – SQ 8+.
Sound Quality Rating
101. Purple Haze.flac
102. Intro -Up the Hill Backwards.flac
103. Glass Spider-Up the Hill Backwards – reprise.flac
104. Day In Day Out.flac
105. Bang Bang.flac
106. Absolute Beginners.flac
107. Loving the Alien.flac
108. China Girl.flac
109. Rebel Rebel.flac
110. Fashion.flac
201. Scary Monsters.flac
202. All the Madmen.flac
203. Never Let Me Down.flac
204. Big Brother – Chant of the Ever Circling Skeletal Family.flac
205. 87 & Cry.flac
206. "Heroes".flac
207. Son of the Silent Age.flac
208. Time Will Crawl.flac
209. Young Americans.flac
210. The Jean Genie.flac
211. Let's Dance.flac
212. Fame.flac
213. Time.flac
214. Blue Jean.flac
215. Modern Love.flac
Label : Laser Media – LM160
Audio Source : Audience recording
Lineage : Autralian FM Radio Broadcast Radio
Taping Gear : Unknown
Taper: Unknown
Recording Location: Unknown
Total running time : 1:59:59
Sound Quality : noise ,dull ,but still good listened to
Attendance : 10.000
Artwork :Yes
This is another dubious release from MVD Entertainment Group, the label that has already released a number of poor quality Bowie CDs and DVDs like "David Bowie – The Document Unauthorized" (CD) and "David Bowie – Origins Of A Starman Unauthorized" (DVD).
To start with, the cover artwork features a photo of Bowie from 1976 – the sort of mistake that occurs on some bootlegs, which is basically what this release is, packaged to look like an official release. I'm sure the label get around the legalities because this is a recording from an Australian FM Radio Channel, the cover does not even state the date of the recording – 3rd November 1987. The recording is spoilt by gaps between the tracks, and the sound mix is poor.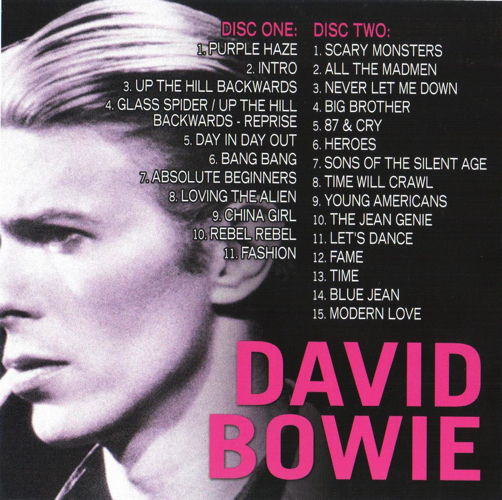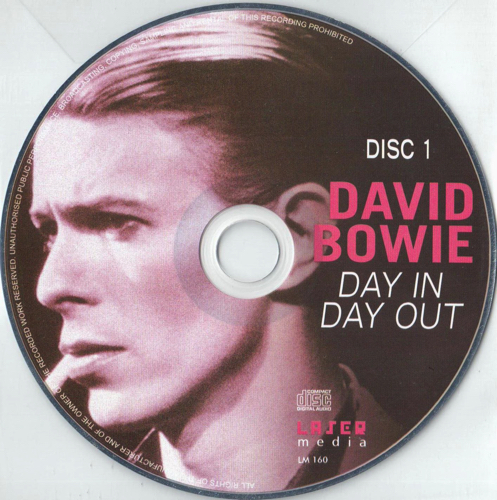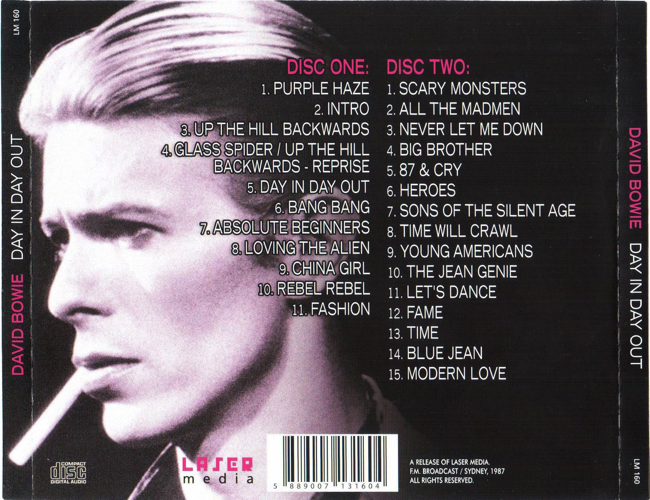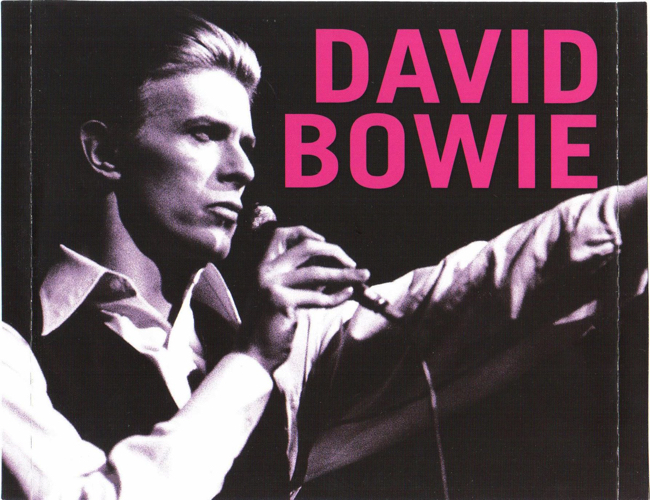 David Bowie Tour band 1987 – The Glass Spider Tour
• David Bowie – vocals, guitar
• Peter Frampton – guitar, vocals
• Carlos Alomar – guitar, backing vocals, music director
• Carmine Rojas – bass guitar
• Alan Childs – drums
• Erdal Kızılçay – keyboards, trumpet, congas, violin, backing vocals
• Richard Cottle – keyboards, saxophone, tambourine, backing vocals
Tour dancers
• Melissa Hurley
• Constance Marie
• Spazz Attack (Craig Allen Rothwell)
• Viktor Manoel
• Stephen Nichols
• Toni Basil (choreography)
Tour design
• Allen Branton – Lighting design
• Mark Ravitz – Set design
• Christine Strand – Video director
| | |
| --- | --- |
| [real3dflipbook id="5″] | [real3dflipbook id="6″] |
| David Bowie The Glass Spider Tour Boek part 1 | David Bowie The Glass Spider Tour Boek part 2 |
.
(Visited 804 times, 1 visits today)