David Bowie 1983-05-17 Brussels ,Vorst Nationaal – The Brussels Rehearsals Volume 2 –
Sound Quality Rating
01. Intro (just static).flac
02. The Jean Genie.flac
03. Modern Love.flac
04. Talkin.flac
05. Hang Onto Yourself (George Simms vocals?).flac
06. Stay.flac
07. Modern Love (Carlos vocals).flac
08. Jamming.flac
09. Modern Love (picked up at sax solo, counted in by Carlos).flac
10. Jamming – Noodling – Carlos sings some unrecognizable song – a few lines.flac
11. Noodling – few bars of Purple Haze (maybe George Simms singing it).flac
12. Puple Haze.flac
13. Station To Station.flac
14. Cracked Actor.flac
15. Ashes To Ashes.flac
16. Space Oddity.flac
Label : No label
Audio Source : audience
Lineage : C60 Cassette –> TEAC Tape Deck w600r
Total running time : 0:53:57
Sound Quality : Not good ,much Noise ,very dull
Artwork :Yes
This is one of the more unique tapes in the Bowie collection.
It's a rehearsal for the Serious Moonlight opening shows in Brussels, and dates to May 17, 1983 according to the Bowie Concert Tapes book. This was also one of the first tapes I collected when I started back in the mid 80's..
This is a band rehearsal that includes Bowie for the first two songs on the recording, The Jean Genie and Modern Love. Then there is some talking/jamming, and I believe George Simms takes over and sings Hang Onto Yourself (although it could be Carlos Alomar). After HOTY, it definitely then sounds like Carlos singing the rest of the way, including Stay, Modern Love, etc. until the last "noodling/Purple Haze" section. At that point, there is a cut and it starts up again with Station To Station with Bowie right through Space Oddity. For those that enjoy historical documents this is a good one, the quality is actually not all that bad although it was allegedly taped from a garage inside the Vorst. You can definitely hear the echo of an empty hall, but again it's listenable. I suppose with these rehearsals you can take them and remaster, amplify talking or whatever, but I left this one pretty much as is. I broke up all the songs and the jamming so you can skip around if you like without too much of an issue. I don't see this around much so perhaps it doesn't circulate all that widely.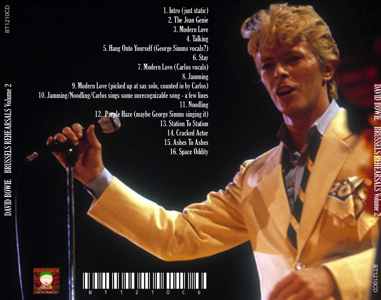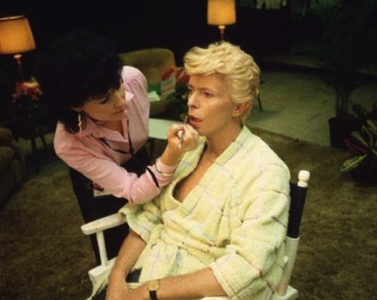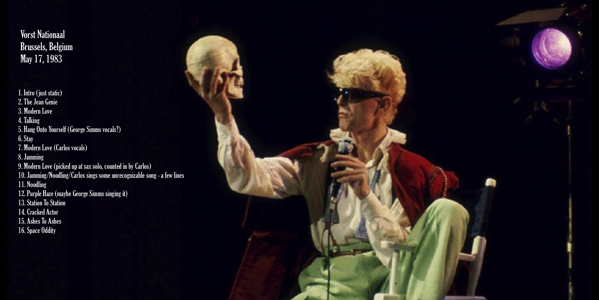 David Bowie Tour band 1983 – The Serious Moonlight World Tour :
• David Bowie – lead vocals, guitar, saxophone
• Earl Slick – guitar
• Carlos Alomar – guitar, backing vocals, music director
• Carmine Rojas – bass guitar
• Tony Thompson – drums, percussion
• Dave Lebolt – keyboards, synthesizers
The Borneo Horns:
• Steve Elson – saxophones
• Stan Harrison – saxophones, woodwinds
• Lenny Pickett – saxophones, woodwinds
Backing vocals
• George Simms – backing vocals
• Frank Simms – backing vocals• Frank Simms – backing vocals
David Bowie World Convention 1983
David Bowie – 1983 Souvenir Serious Moonlight Tour
(Visited 542 times, 1 visits today)