David Bowie 1983-11-26 Auckland ,Western Springs Stadium – Crumpled Wings –
Sound Quality Rating
101 Introduction.flac
102 Look Back In Anger.flac
103 "Heroes".flac
104 What In The World.flac
105 Golden Years.flac
106 Fashion.flac
107 Let's Dance.flac
108 Breaking Glass.flac
109 Life On Mars.flac
110 Sorrow.flac
111 Cat People.flac
112 China Girl.flac
113 Scary Monsters.flac
114 Rebel Rebel.flac
115 White Light White Heat.flac
201 Station To Station.flac
202 Cracked Actor.flac
203 Ashes To Ashes.flac
204 Space Oddity.flac
205 band introductions.flac
206 Young Americans.flac
207 Fame 1.flac
It's not from the same source as the rest of the concert, so the join after Fame is audible
ENDING:
207 Fame 2.flac
208 Star.flac
209 Stay.flac
210 The Jean Genie.flac
211 doves of peace.flac
212 Modern Love.flac
Label : From The Hunky Geordie Tapes – HUG105CD
Audio Source : audience
Lineage : TDK SA90 tape (Arcorman)
Total running time : 1:55:45
Sound Quality : very good. Equals record or radio apart from a slight noise and some dullness.
Attendance : 74.480
Artwork : By steve23yh
What atmosphere:
"I'd like to say that this is the single biggest crowd ever in the history of Australasian concerts" Bowie says after "Heroes".
On the day of this concert the New Zealand Herald wrote: "British rock singer David Bowie arrived in Auckland last night and delivered a mas s ag e La the thousands of fans who will hear his concert tonight – enjoy it but behave yourselves. "We. are going to have a good time,just as long as people don't throw bottles and act like hooligans"."
They didn't. The audience were thrilled,but calm. This immense stadium was used in an unusual way. The stage was not built in one of the far ends – the crescent parts – of the pit,as usual,but at one of the sides. The stadium lies at the foot of a hill,and there too,amid the trees ,seats had been placed. When darkness fell,the place was dotted with campfires. A large area around the stadium was encircleu by gates, and this whole area was full of people. It was the largest number of spectators (t.he US Festival not included) of the tour,and this was officially the last concert .What atmosphere…. .
During the band intro Bowie says: "Thank you,good evening.This is the last night at our tour as you know. And this is really very,very ……… for us,it's marvellous to have ssuch a very beautiful audience,thank you very much. You're beatiful". From the moment of his arrival in Australia Bowie had been deluged with interviews in which he was asked to give his opinion on the nuclear arms problem. This is obviously still on his mind,for when he returns for Modern Love holding two white doves in his hand,he says: "Thank you. I'd like to say what a great tour this has been, I'd like to thank all my crew, everybody who's worked with us,and … and these days it's very hard to express my feelings about anything without feeling vulnerable,but I'd like to say that this little dove here. Charlie dove,I'd like him to be recognised as far as I'm con­cerned that is,I wish our world leaders would stop their insane inability to recognise (rising applause) that we wish to live peaceful!!". The audience produce an immense roaring. "God bless you" Bowie concludes and releases the doves.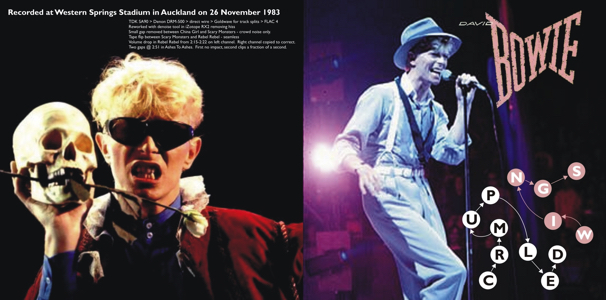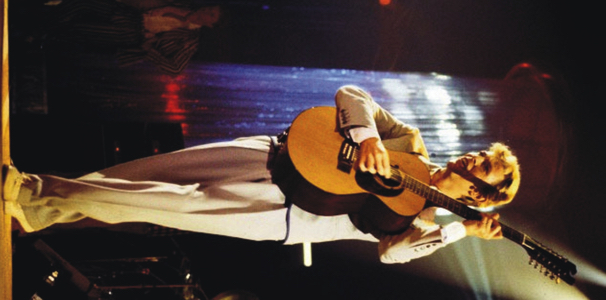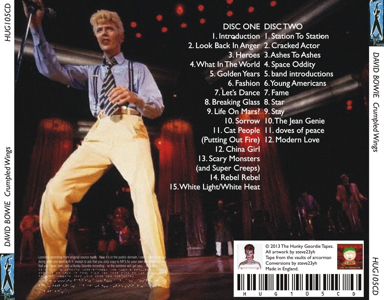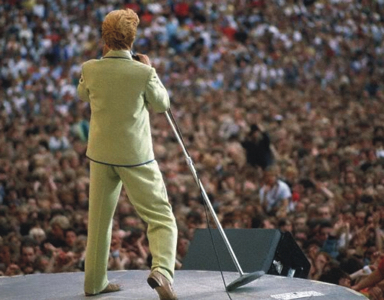 Tour band 1983 – The Serious Moonlight World Tour :
• David Bowie – lead vocals, guitar, saxophone
• Earl Slick – guitar
• Carlos Alomar – guitar, backing vocals, music director
• Carmine Rojas – bass guitar
• Tony Thompson – drums, percussion
• Dave Lebolt – keyboards, synthesizers
The Borneo Horns:
• Steve Elson – saxophones
• Stan Harrison – saxophones, woodwinds
• Lenny Pickett – saxophones, woodwinds
backing vocals
• George Simms – backing vocals
• Frank Simms – backing vocals
•
David Bowie World Convention 1983
David Bowie – 1983 Souvenir Serious Moonlight Tour
===========
Notes
Reworked with denoise tool in iZotope RX2 removing hiss
Small gap removed between China Girl and Scary Monsters – crowd noise only.
Tape flip between Scary Monsters and Rebel Rebel – seamless
Volume drop in Rebel Rebel from 2:15-2:22 on left channel. Right channel copied to correct.
Two gaps @ 2:51 in Ashes To Ashes. First no impact, second clips a fraction of a second.
7. Fame (tweaked to include join)
8. Star
9. Stay
10. The Jean Genie
11. doves of peace
12. Modern Love
Notes
Speed correction – too fast (factor of 96%)
It's not from the same source as the rest of the concert, so the join after Fame is audible.
(Visited 997 times, 1 visits today)