David Bowie 1983-05-27 Frejus ,Les Arenes – Merci Beaucoup –
Sound Quality Rating
101. THE JEAN GENIE INTRO – STAR.flac
102. "HEROES".flac
103. WHAT IN THE WORLD.flac
104. GOLDEN YEARS.flac
105. FASHION.flac
106. LET'S DANCE.flac
107. BREAKING GLASS.flac
108. LIFE ON MARS?.flac
109. SORROW.flac
110. CAT PEOPLE.flac
111. CHINA GIRL.flac
112. SCARY MONSTERS.flac
113. REBEL REBEL.flac
114. WHITE LIGHT, WHITE HEAT.flac
201. STATION TO STATION.flac
202. CRACKED ACTOR.flac
203. ASHES TO ASHES.flac
204. SPACE ODDITY.flac
205. BAND INTRO -YOUNG AMERICANS.flac
206. HANG ON TO YOURSELF.flac
207. FAME.flac
208. TVC 15.flac
209. THE JEAN GENIE.flac
210. MODERN LOVE.flac
Label : LZ – LZCD 049/050
Audio Source : audience
Lineage :
Total running time : 1:42:03
Sound Quality : very good. Equals record or radio apart from a slight noise and some dullness.
Attendance : 14.460
Artwork : None
Note : Soon after the gig a vinyl boot was released (Fashion) but only a single LP of less than half of the concert. This is the full gig.
The audience are highly enthusiastic and Bowie sounds cheerful so it is a good concert.
Bowie sings through his nose or at least has a gigantic cold ,and the audience sound like a troop of whining biddies!
It often happens that a tape has the wrong speed owing to the use of inferior apparatus during retaping.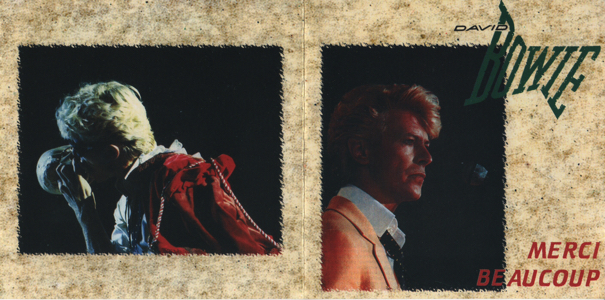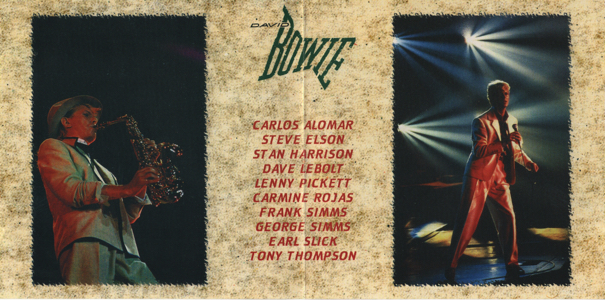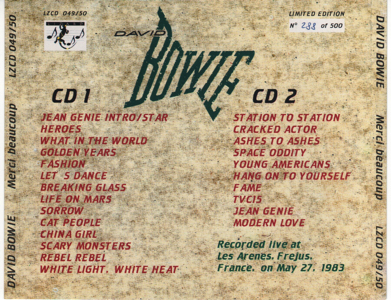 David Bowie Tour band 1983 – The Serious Moonlight World Tour :
• David Bowie – lead vocals, guitar, saxophone
• Earl Slick – guitar
• Carlos Alomar – guitar, backing vocals, music director
• Carmine Rojas – bass guitar
• Tony Thompson – drums, percussion
• Dave Lebolt – keyboards, synthesizers
The Borneo Horns:
• Steve Elson – saxophones
• Stan Harrison – saxophones, woodwinds
• Lenny Pickett – saxophones, woodwinds
Backing vocals
• George Simms – backing vocals
• Frank Simms – backing vocals• Frank Simms – backing vocals
David Bowie World Convention 1983
David Bowie – 1983 Souvenir Serious Moonlight Tour
.
(Visited 597 times, 1 visits today)