David Bowie 1983-05-22 Munich ,Olympiahalle (RAW) .
Sound Quality Rating
SET LIST IN FLAC
01 – JEAN GENIE INTRO ,STAR "HEROES" ,WHAT IN THE WORLD ,GOLDEN YEARS ,FASHION ,LET'S DANCE ,BREAKING GLASS ,LIFE ON MARS ,SORROW ,CAT PEOPLE ,CHINA GIRL ,SCARY MONSTERS ,REBEL REBEL ,02WHITE LIGHT WHITE HEAT:
02 – STATION TO STATION ,CRACKED ACTOR ,ASHES TO ASHES ,SPACE ODDITY ,YOUNG AMERICANS ,HANG ON TO YOURSELF ,FAME ,TVC15 ,JEAN GENIE ,MODERN LOVE:
Label : No label
Audio Source : audience (RAW ,no tracksplit)
Lineage :
Total running time : 1:48:04
Sound Quality : Much noise ,dull ,but still good listened to
Attendance : 12.000
Artwork : JTB Artwork
Tracksplit : No track makers
A greal,flawless concert!
Now and again there are short interruptions in the tape and during Modern Love there is so much grating that it cannot well be listened to, probably because it was recorded too loudly. But the rest of the tape is of a high standard: very good sound quality,the audience can be heard en masse. "That's my hand, ladies and gentlemen" Bowie say's proudly,and then he introduc.es them,en­ ding with "And then there is you".
The first lines of Jean Genie Bowie sings a little giggly,and he messes lip tbe lyrics a little.
Halfway Ashes to Ashes David forgot a part of the lyrics
A greal,flawless concert!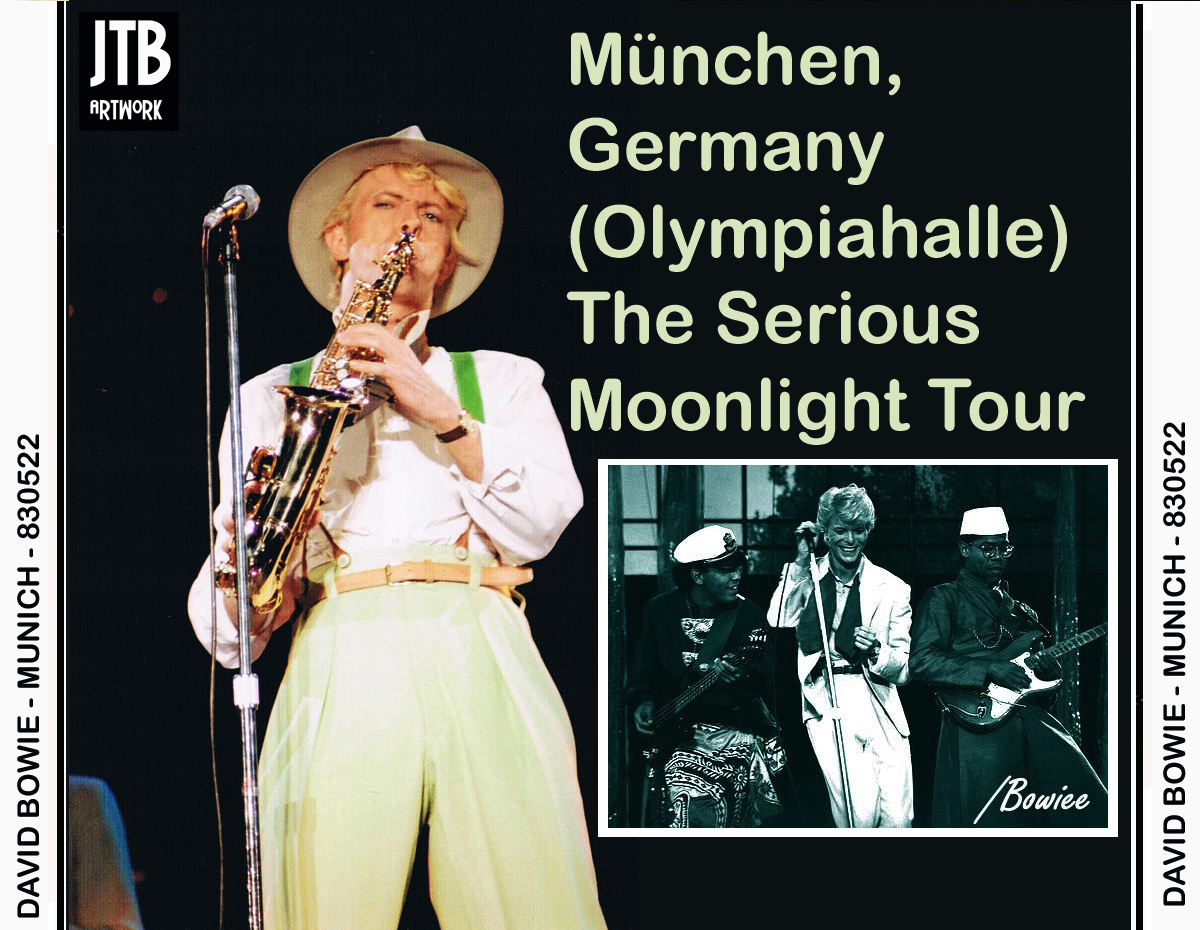 David Bowie Tour band 1983 – The Serious Moonlight World Tour :
• David Bowie – lead vocals, guitar, saxophone
• Earl Slick – guitar
• Carlos Alomar – guitar, backing vocals, music director
• Carmine Rojas – bass guitar
• Tony Thompson – drums, percussion
• Dave Lebolt – keyboards, synthesizers
The Borneo Horns:
• Steve Elson – saxophones
• Stan Harrison – saxophones, woodwinds
• Lenny Pickett – saxophones, woodwinds
Backing vocals
• George Simms – backing vocals
• Frank Simms – backing vocals• Frank Simms – backing vocals
David Bowie World Convention 1983
David Bowie – 1983 Souvenir Serious Moonlight Tour
(Visited 345 times, 1 visits today)