David Bowie 1976-02-28 Cleveland ,Public Auditorium – The Cleveland Masters –
Sound Quality Rating
101. Intro (Un Chien Andalou).flac
102. Station to Station.flac
103. Suffragette City.flac
104. Fame.flac
105. Word On a Wing.flac
106. Stay.flac
107. Waiting for the Man.flac
108. Queen Bitch.flac
109. TVC 15 (false start 1).flac
110. Life On Mars.flac
111. Five Years – TVC 15 (false start 2).flac
112. Panic in Detroit – Band Introductions .flac
113. Changes.flac
201. TVC 15.flac
202. Diamond Dogs.flac
203. Rebel Rebel.flac
204. Jean Genie.flac
Label: No label
Audio Source: audience
Lineage: AUD(M)
Total running time: 1:44:44
Sound Quality : noise ,dull ,but still good listened to
Attendance: 8.000
Artwork: yes.
Info: This is the same concert as "Neoexpressionism", but this time the recording is sourced from the master analog tapes, owned by dbdigital.
This set was released under the name "The Cleveland Masters".
Many years ago I decided to sell my silvers of "Neoexpressionism", so I am not certain what the differences are. Quite possibly this recording has a longer intro and maybe it has a (slightly) better sound?
Bowie was high on cocaine in those days, probably that's the reason why there are 2 (!!!) false starts of TVC15.
Anyway, it's a good recording from the StationToStation Tour, one of the few enjoyable ones there is.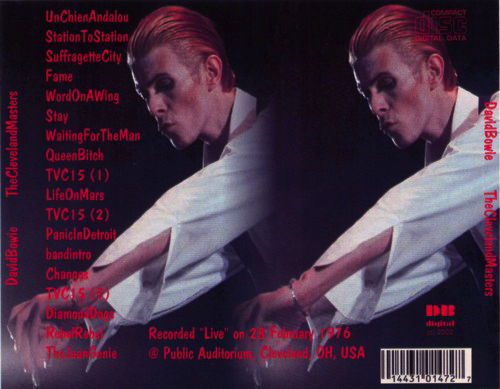 The Tour Band – The Station To Station Tour
• David Bowie – Vocals, saxophone
• Carlos Alomar – Rhythm guitar, music director,backing vocals
• Stacy Heydon – Lead guitar, backing vocals
• George Murray – Bass guitar, backing vocals
• Dennis Davis – Drums, percussion
• Tony Kaye – Keyboards
The band became known as "Raw Moon"
Crew
• Vern Moose Constan, Rob Joyce – Band technicians/personnel
• Lonnie McKenzie, Leroy Kerr, Lester Burton, Buddy Prewitt, Larry Sizemore – Lighting technicians/personnel
• Buford Jones, Scott Wadsworth – Sound technicians/personnel
.
.
(Visited 425 times, 1 visits today)