David Bowie 1973-06-07 Manchester ,Free Trade Hall – Manchester –
Sound Quality Rating
01. HANG ON TO YOURSELF.wav
02. ZIGGY STARDUST.wav
03. WATCH THAT MAN.wav
04. MEDLEY – THE WILD EYED BOY FROM FREECLOUD – ALL THE YOUNG DUDES – OH! YOUR PRETTY THINGS.wav
05. MOONAGE DAYDREAM.wav
06. CHANGES.wav
07. SPACE ODDITY.wav
08. THE JEAN GENIE.wav
09. TIME.wav
10. WIDTH OF A CIRCLE.wav
11. BAND INTRODUCTION.wav
12. LET'S SPEND THE NIGHT TOGETHER.wav
13. SUFFRAGETTE CITY.wav
14. WHITE LIGHT , WHITE HEAT.wav
15. ROUND & ROUND.wav
Label: No label
Audio Source: audience
Lineage: TDK D90 > Denon DRM-500 tape deck
Total running time: 1:13:38
Sound Quality : Bad ,excessive noise ,extremely dull : can hardley be listened to.
Attendance: 2.500
Artwork: Nathan Adler.
Up to and including Time the same as Worcester.
The Band Intro-Let's Spend the Night Together/Suffragette City/encore:Width of a Circle/encore: White Light~White Heat/Round & Round Bowie's singing is hard to hear and there is an irritating bass drone which dominates the tape.
Before Bowie returns for an encore the announcer incites the audience to call "We want Bowie,we want Bowie!",which at once they do en masse.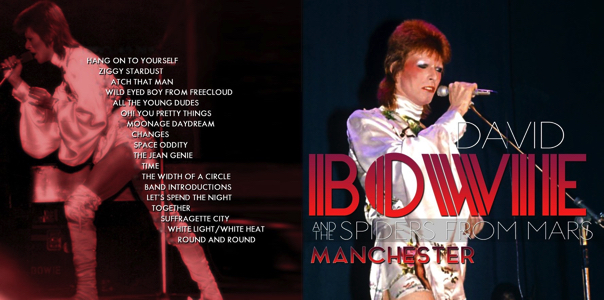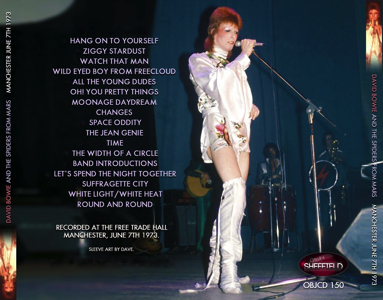 REVIEW:
David (thespacekiddette) November 3, 2021 at 12:02 pm |
My first concert Ever – Free trade Hall Manchester 7th June 5.30 show. I was 13 years old – I'm 61 now and still haven't gotten over it!
Never even seen a strobe light before so when Bowie and the Spiders came on in darkness then strobe the effect was truly shattering! Hang on to Yourself in Black and Silver striped Kansaii jump suit – ripped off for Ziggy Stardust – UNBELIEVABLE! When later in show David sang Space Oddity under a glitterball…. it really was like falling through space!
This is the concert against which all the concerts I have been to in my life since (a lot) – are measured against – some have come near but nothing has ever topped this pure Rock n roll theatre!
I was in school uniform with a girl mate from school – no hyperbole but if there was one day in my life I could go back in a time machine to – it would be this one! I'm just so glad I was clued up enough at that tender age to have got my (£1.25 + 10p booking fee!) ticket…
.After July 3rd there was no opportunity to ever see this show live in the flesh again




David Bowie Tour Band – The Ziggy Stardust Tour
David Bowie
– vocals, guitar, harmonica
Mick Ronson – guitar, vocals
Trevor Bolder – bass
Mick "Woody" Woodmansey – drums
Mike Garson – piano, mellotron, organ (22 September 1972 – end of tour)
John Hutchinson – rhythm guitar, 12-string acoustic guitar (8 Apr 1973 – 20 Apr 1973 – 3 July 1973)
Geoffrey A. MacCormack – backing vocals, percussion (19 January 1973 – end of tour)
Ken Fordham – saxophone (19 January 1973 – end of tour)
Brian Wilshaw – saxophone, flute (19 January 1973 – end of tour)

Crew
Robin Mayhew ,Will Palin ,Mick Hince ,Dean Heiser – Sound ,Ground Control ,Front of House Engineer ,Stage hands
Nigel Olliff, Nick Gilbey, Paul Normand and crew – Lights ,1972 Heavy Light ,1973 See Factor Industries NY Bob See ,Steve Hurston ,Mick Fussey
Peter Hunsley – Stage Equipment
Suzi Fussey – Wardrobe, Makeup and Hair




(Visited 956 times, 1 visits today)