David Bowie 1999-12-02 London ,The Astoria – Child's Hours Live 1999 –  
Sound Quality Rating
– 01. LIFE IN MARS.flac
– 02. WORD ON A WING.flac
– 03. THURSDAY'S CHILD.flac
– 04. ASHES TO ASHES.flac
– 05. SURVIVE.flac
– 06. CAN'T HELP THINKING ABOUT ME.flac
– 07. CHINA GIRL.flac
– 08. ALWAYS CRASHING IN THE SAME CAR.flac
– 09. SOMTHING IN THE AIR.flac
– 10. DRIVE IN SATURDAY.flac
– 11. STAY.flac
– 12. SEVEN.flac
– 13. CHANGES.flac
– 14. REBEL REBEL – ENCORE.flac
– 15. REPETITION – ENCORE.flac
– 16. THE PRETY THINGS ARE GOING TO HELL – ENCORES.flac
– 17. CRACKED ACTOR – ENCORES.flac
– 18. I'M AFRAID OF AMERICANS – ENCORE.flac
Label : Shout To The Top ‎– STTP 071/072
Audio Source : Soundboard
Lineage : Unknown
Taping Gear : Unknown
Taper: Unknown
Recording Location: Unknown
Total running time : 1:33:15
Sound Quality : Excellent quality! Equals record or radio
Attendance : 1.500
Artwork : Yes
The complete London show in very good sound quality!
Some great versions of some of the songs make this disc quite interesting.
For instance a very stripped version of ASHES TO ASHES, a steamy STAY…. and an odd version of CRACKED ACTOR!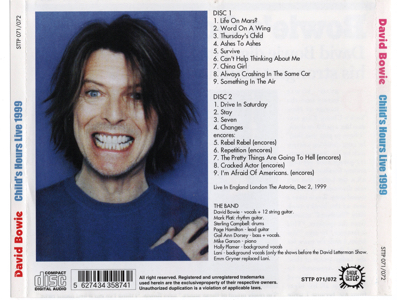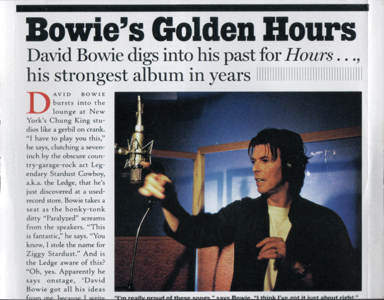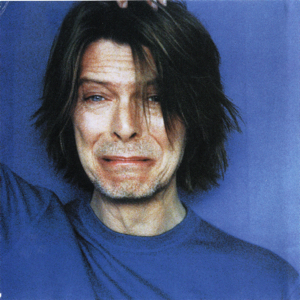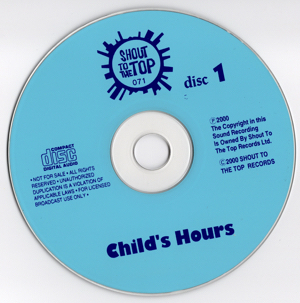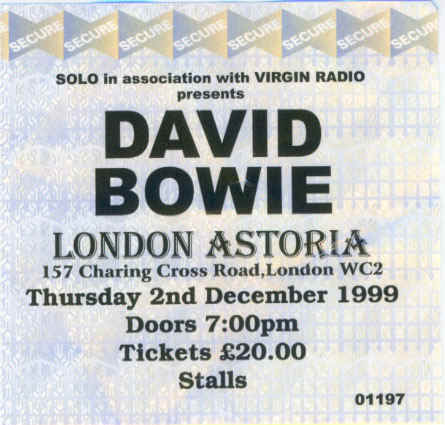 David Bowie Tour band 1999 Hours Tour
The Hours Tour was a small-scale promotional concert tour by David Bowie comprising eight live performances and numerous television appearances in support of the album Hours. Guitarist Page Hamilton, founding member of Helmet, was drafted to replace Reeves Gabrels whose final performance and association with Bowie ended at the VH1 Storytellers performance on 23 August 1999. Rumours of a split were denied by both parties, until a few months later the story changed as the guitarist admitted that he and Bowie had drifted apart.
The Tour band
• David Bowie: vocals
• Page Hamilton – lead and rhythm guitar
• Gail Ann Dorsey: bass guitar, vocal
• Sterling Campbell – drums, percussion
• Holly Palmer – backing vocals, percussion
• Mark Plati – lead and rhythm guitar, acoustic guitar, bass guitar, backing vocals, Music_director
• Mike Garson: keyboards, backing vocals
• Emm Gryner – backing vocals
 
 
 
(Visited 1,354 times, 1 visits today)