David Bowie 1978-12-12 Tokyo ,Nihon Budokan Hall – Merry Xmas Mr Bowie – ( Vinyl rip ).
Sound Quality Rating
101. "HEROES"..flac
102. FAME..flac
103. BEAUTY AND THE BEAST..flac
104. FIVE YEARS..flac
105. SOUL LOVE..flac
106. STAR..flac
207. ZIGGY STARDUST..flac
208. SUFFRAGETTE CITY..flac
209. STATION TO STATION..flac
210. TVC 15..flac
Label : ARC / Oh by Jingo Records – OBJCD056
Audio Source : audience
Lineage : Boot Lp > Merry Xmas Mr Bowie
Total running time : 0:50:43
Sound Quality : Much noise ,dull ,but still good listened to
Attendance : 10.000
Artwork : by Bewlay Brothers design 2012
Note : This is a recording from Japanese TV of the show
This concert – the very last of the '78 tour – was filmed com­pletely,but only half of it was broadcast on Japanese TV,in the programme 'The Young Music Show'.
Most of the numbers are accompanied by simultaneous translations into Japanese of the words he is singing.
Five Years is one of them – then Dennis Davis suddenly appears wearing some sort of gorilla mask,but after a couple of songs he takes it off again.
The audience is barely heard or seen until after the speeding up in Station to Station.
After Station to Station one can seen the audience shouting for an extra until Bowie comes back to release a cheerful version of TVC I5.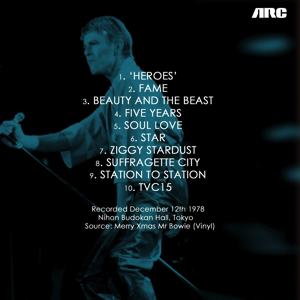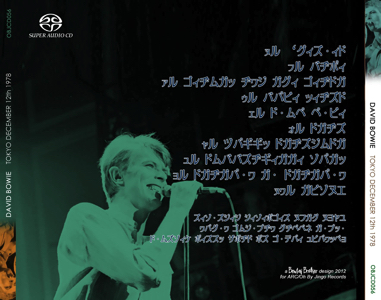 (Visited 72 times, 1 visits today)