David Bowie 1978-11-11 Adelaide ,Oval Cricket Ground – Sense of Adelaide –
Sound Quality Rating
101. Intro.flac
102. Warszawa.flac
103. "Heroes".flac
104. Be My Wife.flac
105. What in the World.flac
106. The Jean Genie.flac
107. Blackout.flac
108. Sense of Doubt.flac
109. Breaking Glass.flac
110. Fame.flac
111. Beauty and the Beast.flac
112. Band Introductions.flac
113. Five Years.flac
114. Soul Love.flac
115. Star.flac
116. Hang on to Yourself.flac
117. Ziggy Stardust.flac
118. Suffragette City.flac
201. Art Decade.flac
202. Alabama Song.flac
203. Station to Station.flac
204. TVC15.flac
205. Stay.flac
206. Rebel Rebel.flac
Kenny Everett Show 23-04-1979
207. Boys Keep Swinging .flac
Label : Old Gold Records ‎– OGCD054
Audio Source : audience
Lineage :
Total running time : 1:51:29
Sound Quality : Much noise ,dull ,but still good listened to
Attendance : 20.000
Artwork : Yes
"Thank you very much. l'd like to say how pleased and thankful we are that you've made us so much at home" Bowie says. Roger Powell had prior commitments to Utopia and could not come. He was replaced by an "Australian who came in at the last minute and has done an amazing role – Dennis Garcia!".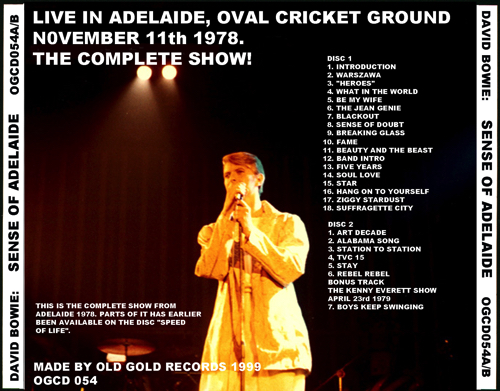 Tour band 1978 – The Low and Heroes World Tour :
David Bowie – vocals, chamberlain
Adrian Belew – lead guitar, backing vocals
Carlos Alomar – rhythm guitar, backing vocals (music director)
George Murray – bass guitar, backing vocals
Dennis Davis – drums, percussion
Roger Powell – keyboards, synthesizer ,Moog Taurus bass pedals ,backing vocals (except 11–14 November 1978)
Dennis Garcia – keyboards, synthesizer (11–14 November 1978 only)
Sean Mayes – piano, string ensemble, backing vocals Simon House – electric violin
Simon House – electric violin.
.
info BowieDownunder.com > http://www.bowiedownunder.com
Being the first concert on the new part of the tour, there was the question of what might be played. Despite having tour reports of overseas concerts, it was not certain whether Bowie would maintain something similar…
"As the light began to fade support band, The Angels, who were playing to a home crowd, entertained, and were warmly welcomed.
It seemed an age between The Angels finishing and a group of musicians walking quietly on to stage and the opening bars of "Warsawa" sounding.
At least in youth, there's a strong impact of seeing someone who has been admired in the flesh for the first time. They seem larger than life, almost magical.
For me, that Adelaide concert on Saturday November 11 was magical. A short visit to Adelaide airport the next day secured autographs of the some of the band."
~ Colin M, Bowie fan, 2011.
As it turned out, the repertoire in Adelaide remained almost identical to the previous leg of the tour – focusing on material from Low and "Heroes", although 'Speed of Life' had now been dropped. The set was effectively divided in two – Bowie announcing:
"We're just going off for 10 minutes….and when we come back….we won't be wearing any slippers".
Sean Mayes recalled that the crowd was particularly vocal in the second half:
"People were throwing streamers on-stage, also a sparkler, a camera sling … and a blue puppet wearing a DEVO badge.
Towards the end, Carlos was losing his voice and David forgot some of the words in 'Station to Station'. But we stormed through the encores….".
The blue puppet, incidentally, was Bruce Butler's Grover doll. It sat aloft Sean's piano for most of the concert (having been placed there by Bowie).
After the gig, the band went to what was described as "a posh but boring nightclub".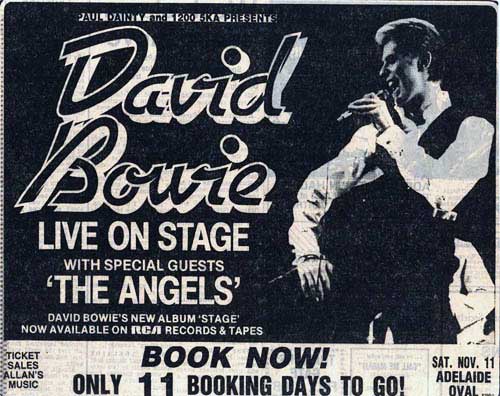 (Visited 327 times, 1 visits today)